13 Oct
The Black Paint: Broad Script
Scene 1:
The movie starts with BJP – SS romance in Delhi much like the INC – NCP complicated relationship in the other flop movie.
Scene 2:
The love spreads back to SS' home in Maharashtra with some beautiful love songs played as filler and their live-in relationship starts. In one of the songs the festival 'Holi' (a must!) is depicted with saffron color powder falling on them as they hug each other. In another scene, they are both seen sending an SS arrow from the SS bow and the arrow suddenly becoming flowers and showering on them as heavenly blessings!
Scene 3:
About an year passes like that. SS slowly starts dissenting as there is no equal opportunity in their relationship! Further, SS starts questioning the "MCP" (not to be confused with NCP) attitude of her dominant partner!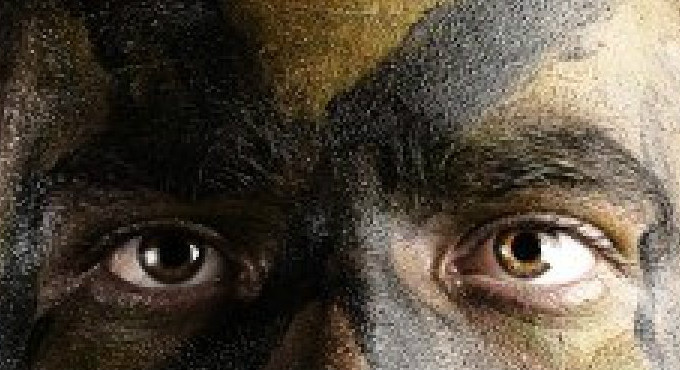 Scene 4:
This scene shows a number of problems in their relationship. Domestic violence fillers, clips from happy and sad times, with occasional flashbacks on post-2014-election scenes in Delhi, sad figure of SS' cousin (a lone cabinet minister in Delhi), concert cancellation in Mumbai which they intended to go together to fight in the public, festival season meat ban etc are featured here
Screen 5:
SS' dissent becomes worse as their life moves forward. SS had to resign from her job and remain a housewife without having any say in running the family. On top of having no chance to showcase her patriotism from time to time, her Mother-In-Law RSS had more influence on her partner than she ever had. Patriotism was the main described quality as per her original online matrimonial ad and the primary reason why her MIL initially liked her!
Scene 6:
In the meantime, BJP's attention now moves to Bihar where he's fighting a major war! Lots of action scenes are shot here with many Shakti Kapoors 'casted' there in!
Scene 7:
SS, once known for her Anti-Bihari stand, suddenly decides to fight the war on her own! (This is a major twist in their relationship as SS starts showing her true intent!)
Scene 8:
SS applies all her irritability skills on BJP despite the latter's request not to contest against him.
…
Scene 9:
In the meantime, SK, who had multiple live-in relationships in the past with CPM and BJP (with the blessings of BJP's Granddad) comes into the scene! This part of the Bollywood script is where an apparently harmless scapegoat (A must in most scripts!) is introduced to the audience! Further, his experience in the other Super-hit movie by name Cash-For-Vote adds value to his scapegoat role!
Scene 10:
SK – in an attempt to get back with old love BJP – decides to irritate SS by introducing a Pakistani in the plot! SK knows very well that SS gets Hysteric and Violent when the word "Pakistan" is heard and will immediately start demonstrating her "Patriotism" in a violent fashion!
…
Scene 11:
On the plan execution day, SK decides to wear clothes resembling BJP's favorite colours, but decides to keep an Indian flag too hidden in his clothes, thereby creating opportunity to get sympathy from many angles, with one simple plan. This intent would help him to tactfully take SS – his main rival – out of the picture, while impressing BJP! He knew that the Indian flag will also give him opportunities for future live-in relationships or more suitable roles in forthcoming Bollywood releases!
Scene 12:
In the meantime, SS – in an attempt to impress her followers (and to remain herself significant in the homeland) – prepares some Black Paint – RGB(0, 0, 0) as Aam Admi in Bangalore calls it – to throw on SK's face! The fact that SK is still having a soft corner with BJP irritates SS further! (This scene has to effectively shown various emotions of SS by mixing Love-Hate scenes from the past)
…
Scene 13:
The D-day arrives! SS and her people prepare!! BJP watches the proceedings closely!!! SK comes out of his house in slow motion and gets into the car to go the Pakistani who's now in Mumbai!!!! (At this point, the scenes of SS' vehicles and SK car coming from opposite sides need to be shown alternatively in slow motion – not as slow as the arrows in TV Ramayana coming from opposite sides, though!).
SS people intervene SK, SK pleads innocence but chuckles inside and prepares for the inevitable! And in this fateful 13th scene, SS throws the Black Paint on SK's face! (accompanied by flashlights, sparkles and sound effects similar to the ones shown when Chota Bheem whirls his Gada!)
(This scene actually shows black paint splashing on a white screen rather than the clothes, the white part zooms out and it's actually the Indian flag now and the black stain is dripping down on the national flag. A symbolic scene shot showing the current state of affairs! Vande Mataram's instrumental music is played the background!!)
…
Scene 14:
This scene is all about reactions from multiple angles with many intellectuals joining the party.
– BJP's Granddad condemns the incident first as SK was one of the brains behind his Granddad-for-PM campaign that he lost in 2009!
– SK decides not to take bath for a couple of days, goes around with the black face and says SS actually tarnished the constitution and unveils the hidden Indian flag!
– Digvijay Singh and Singhvi wakes up at the chance to open their mouths, call it foul before going back to sleep for the next few months!
– Arnab Dogswamy swallows five nos of Ginger flavoured Vicks goliyaan, alleviates his throat and prepares for the ultimate two-hour-long Guinness record breaking bark in his TV show (This particular episode would feature a special type of fire appearing on the TV screen as Mr.Dogswamy keeps adding some fuel to the fire every other minute)
– SS, the self-proclaimed winner of the whole mess, calls SK Kasab and puts all the blame on BJP and Pakistan!
– BJP leader says both SS and SK should fight poverty than throwing black paint at each other!
– Local BJP avatar says this game brought disrepute to the state, much worse than SS's earlier tantrums like damaging Wankhade pitches or outburst against Cycle Jackson (which subsided after Jackson adequately compensated SS monetarily)
– Rahul Gandhi says farmers' rights should be protected!!!
…
Scene 15:
"After 4 Years…" is written on the screen.
It's yet another election season in Maharashtra in 2019. SS is seen campaigning alone! SS unveils several patriotic numbers but nothing seems to be working. Suddenly, SS thinks of something strategic! A live time bomb (actually, the time piece part of the old style movie bomb!) is shown on the screen fully zoomed in (accompanied by an eerie music). SS looks at the opportunity with excitement-filled wide eyes. The time piece glows slowly zooms out and surprise!!! It's the time piece in the NCP flag!
The film ends with SS and NCP hugging each other and campaigning together happily as the common man looks at them in utter disbelief!
— THE END —
Note: This imaginary script is intended for humour only! It may have resemblance to some of the recent events but rest is pure imagination