Bob Woolmer is no more! The man who was hailed as one of the best in the coaching business has passed away barely 20 hours after his team's shocking first-round exit from the ICC World Cup 2007. While the reasons for his death is yet to be known, it would be great to spend a few minutes to analyze the lives of high-profile roles in cricket crazy nations like India or Pakistan.
The other day, during the India-Bangladesh match, I saw this interesting placards among the spectators 'A few things don't change, Cricket is our religion and Sachin is our God'. Well, that summarizes what cricket is to people in India or Pakistan. The cricketers, support staff and selectors are gods as long as the going is good.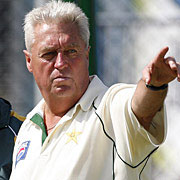 But when these people go through lean patches of their careers, the fans literally pounce on them. The readers may recall the plight of Greg Chappell when he was attacked by a mad cricket fan at the airport – the reason was that there were no cricketers selected from his state for the current Indian team. Bob Woolmer himself was allegedly assaulted by one of his players. It's only a day back when the mad fans spoiled MS Dhoni's new house that is being constructed, due to his duck and India's failure in the match against Bangladesh.
High-profile coaching job or captain's seat in cricket does not come free here. People like Bob Woolmer or Greg Chappell are mentally tough and matured enough to handle the pressure that their task and role demands. But most of the time they have to face the extremities that you see only in the sub-continent. Anywhere in the world there will be sports fans and their crazy behaviours. But in India it is more 'religious like' where 'sports fanatics' go on to do anything that they want including spoiling public or private properties and attacking individuals that they think are the reasons for the collective failure. It's more built into the culture and lack of education than anything else. And the worst thing is that the politicians, movie makers, cola makers or law makers – all of them are there to exploit the emotions of the cricket crazy fans.
I am not sure why the fans or the above mentioned people don't treat other sports (hockey for example) the same way. Indian hockey has been pathetic over the past few years where as we were like kings in the past. Nobody seems to be doing anything about it – regardless of winning or loosing. I can only assume that whatever the colonialism gifted to us in the form of sports is being taken up and treated in extremities and people are over-passionate about the same. Depictions like Lagaan are not influencing the behavioral practices positively but making things worse here.
It's high time the fans realized that the cricketers and support staff are humanbeings themselves. They too undergo emotions, stress and passion when they play cricket for their nation as well as off the field. If they underperform there is a sports body there to address that issue, there is a selection panel to find new players and groom them. Until then, please leave the individuals alone…