No other Australian cricketer – even the big Don, Allen Border or Shane Warne – has ever been more popular than Adam Gilchrist simply due to the way he played his cricket. While his entertainment on the field attracted fans all around the world, the human being that Gilchrist is, made him even well-liked among cricket lovers, especially in the sub-continent and other developing parts of the world.
The Gilchrist story cannot be merely depicted in terms of batting/keeping averages. As for wicket keeping techniques, I thought he was probably a little ordinary though exciting.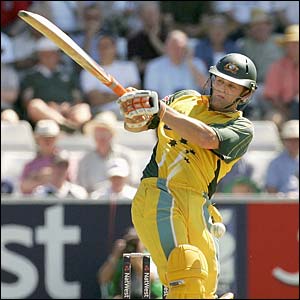 But at a time when the wicket keeper was a specialist position and nothing much was expected out of that role in terms of batting, Gilly walked into the team with a different agenda. 5570 test runs out of 96 matches at an average of 47.60, 17 centuries and strike rate of 82 is nothing short of extra-ordinary for a wicket keeper and No:7 batsman (Remember our own specialist batsman Sourav Ganguly averages only 42 with more than 100 tests under his belt)
Even more exhilarating is the way Gilly played his one-day cricket. A career strike rate of 97 at an average of 35.89 for an opener means that majority of the bowlers suffered (danda!) at his hands in the brutal display of explosive batting. It was comparable or even better than his contemporaries like Sanath Jayasuriya and Virender Sehwag in terms of converting the number of appearances into team's win. And teaming up with an equally – but more technically equipped – explosive Mathew Hayden meant that it was an era that the world cricket will miss for a long long time.
It is sad that Gilly is going out on lower note with himself scoring not many runs in the last few matches. Even more hurting for the fans and Cricket Australia is the fact that Australia lost the last three matches he was part of and also the triangular CB Series. However, the unselfish (how many successful cricketers are not selfish these days?) way in which Gilly played his cricket will be remembered by world cricket for ever. And retiring at the right time instead of stretching his career for an year or two longer, makes him an even more special person.
The man who was Australian like in terms of aggression also played his cricket fair. Gilly is known for his sportsmanship on and off the ground. Who could forget the Gilchrist who walks out without waiting for the umpire's decision when he feels that
he was out! And how many cricketers do that consistently through out their careers? Also, Gilchrist is known to be a friendly character even outside the field – not just with his compatriots but also with other gentlemen cricketers around the world. I read somewhere that Gilchrist consistently tried to get Anil Kumble's home telephone number in Bangalore for almost 10 days – before being successful – to congratulate him on completing his 600 wickets in tests.
For what he has done to the world cricket, Gilly deserves a hall-of-fame entry for it is really hard for the cricket fraternity to get to see a similar personality in the near future!