As usual, I had posted my detail road test and review of the ANHC (All New Honda City) i-Vtec on mouthshut and here are the excerpts from that review. You may head to the All New Honda City i-Vtec review page for more details.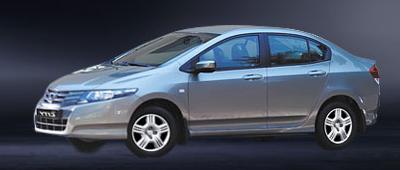 Image courtesy: Honda Cars India
Futuristic design
Honda India has been one of the pioneers in bringing in futuristic car designs with their Honda City and Civic series. The ANHC is no different. In fact, from the exterior design point of view, it's an extremely good looking vehicle. When it comes to the interiors, it has tried to mimic some part of the Civic's console and steering but the plastics and finish are extremely disappointing.
The engine and performance
The best thing about the ANHC is its 1.5L iVtec engine that is so smooth and powerful. It delivers a 118ps power with a decent 146Nm torque. In fact, I thought, in a 0-100 shoot out it may overtake the Toyota Corolla Altis. The gear is slick and butter smooth so are the brake, gas and clutch pedals.
So, what's the problem?
At the time of writing, the ANHC is a totally under-featured vehicle that has no fog lamps, no alloys, no electrically foldable mirrors and no CD-player etc. And without all these it is priced at something like 8.5L ex-showroom in Bangalore. Moreover, the interiors are extremely disappointing and one wouldn't feel like they are sitting in a 9L car. Read more about the ANHC in my Honda City review on Mouthshut.
Happy Motoring!