(Just in case you are not aware of) the Ministry of Road Transport & Highways had taken the initiative of re-numbering most of the highways in India a couple of years ago. It was a minor news item in most dailies then but I thought it's a huge step towards rationalizing our road network names along with rebuilding the infrastructure. The National road grid in India has been getting a good boost ever since our former Prime Minister Shri. Atal Behari Vajpayee's National highway development project (NHD) started materializing in stages.
Highway System in India
India at present (Feb 2013) has more than 200 national highways totaling to a length of 70,000+ kilometers which is maintained by the NHAI (National Highway Authority of India)
The primary highway grid, as per Vajpayee's dream project, consists of the following major stretches (picture below) supported by existing highways significantly enhanced:
The North-South Corridor stretches from Srinagar in J&K state to Kanyakumari – the southernmost tip of India. The length of this major road is 4000kms.
The East-West Corridor connects Porbandar in Gujarat with Silchar in Assam and the total length of this road being 3300kms. (Wonder why they didn't plan it till the boarder including Arunachal Pradesh!)
The Golden Quadrilateral (GQ) is the highway network connecting the four metros in India – i.e. Delhi, Mumbai, Chennai and Kolkata. The spin-offs of GQ also connects cities like Bangalore, Pune and Ahmedabad. The total length of GQ is 5846kms.
Most part of the above highways is 4-lanes while 6-laning project is being undertaken in many stretches.
Please note that the North-South and East-West corridors are often referred as ONE i.e. NS-EW corridor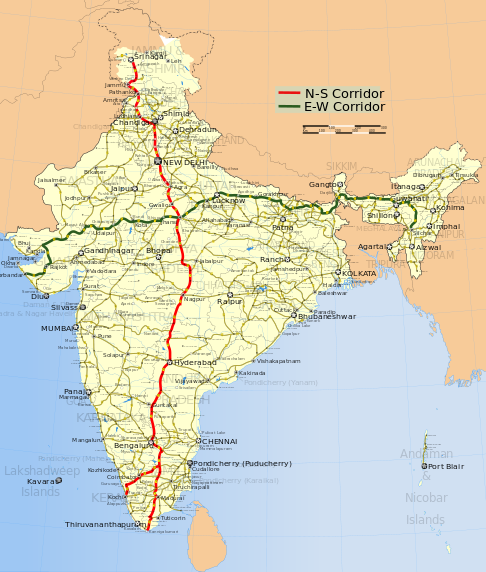 North-South and East-West Corridors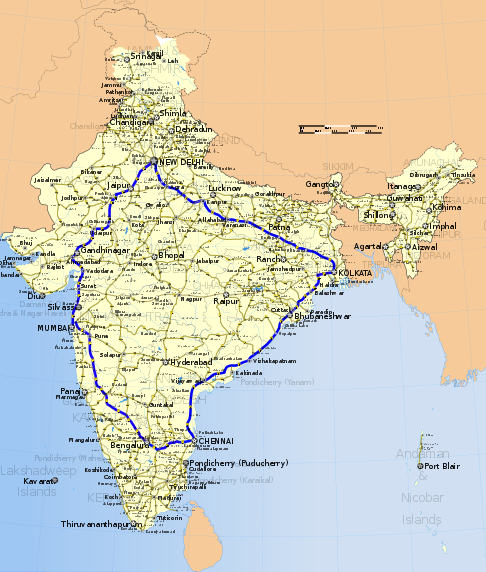 The Golden Quadrilateral
(Image courtesy: Wikipedia – The boundaries shown here may not be the actual boundaries of India)
Highway Types in India
If you refer to Google map for driving, you must have noticed symbols like AH, NH and SH. The following are the explanations for these respective codes.
1. National Highways (NH): These are major highways in India that provide connectivity to all cities and states. NHs are maintained by the Government of India (i.e. NHAI). As I mentioned earlier, National highways spans over 70,000 kms and even the NS-EW corridor and GQ are formed by many such highways.
2. State Highways (SH): State highways spans over 150,000kms in length and are managed by the state governments to provide accessibility and city/town inter-connectivity within each state.
3. Great Asian Highways (AH): Asian Highways are part of the cooperative project within Asian countries. While in principle, the National Highways in India themselves forms the AH stretch in India, it's good to understand them from the map's point of view. You will encounter many places in a map where the highway is referred to as an Asian Highway or AH. In reality though, there's no separate road network for AHs but they consume the respective major highways in the participating countries to form the Asian Highway grid. You can read more about Asian Highways at Wikipedia.
How the New Highway Numbering in India Works?
Let us come to our main topic now. Until recently, the Indian highways were numbered in a very confusing manner that didn't provide any logic behind their numbers. However, the Government of India took a major decision in 2010 to rationalize the highway numbers in a way that the number provides some clue about the geographic location and the direction of a particular highway.
Please refer to this circular by DORTH to know all the renumbering that took place.
The logic behind national highway numbering in India is as follows:
All North-South highways will carry EVEN number
All East-West highways will have ODD numbers
All major Highways will be single digit or double digit in number (Read the exception in point 6 below)
North-South highways will increase their numbers from East to West. For example, a particular North-South highway in Central India or Western India will have a higher number than the one in East India. To be specific, now you can guess that NH4 is somewhere in East India where as highway 44 may be towards the west of India while both runs north-south due to the even numbering
Similarly East-West highways will increase their numbers as we move from North to South. By this logic NH1 will be running East-West somewhere in North India while NH 83 may be somewhere down south. Of course, there may be a minor confusion among some roads that may be running diagonally in stretches
THREE digit numbered highways are secondary routes or branches of a main highway. For example, 144, 244, 344 etc will be the branches of the main National highway 44. Please note that since NH44 (NS Corridor) runs the length of the country from North to South a side shoot say 144 may be up north while something like 944 may be down south
Suffixes A, B, C, D etc are added to the three digit sub highways to indicate very small spin-offs or stretches of sub-highways. For example, 966A, 527B etc
So next time when you are driving based on the map or navigation device and when you see/hear something like 'Turn left to Old NH47' you should remember that the particular highway is being re-numbered.
I am not sure when the numbering process will be complete but I sincerely hope that they introduce a lot of sign boards to avert any confusion. Also, like in the US and some western countries, it may help if they provide some clue about which direction one is heading at any given moment. For example, 35W means a west bound highway. In India, since the major number (e.g. 35) corresponds to the direction itself, what the road signs or milestones should carry is something like 35-W or 35-E, I think.
Picture References
Wikipedia has a nice picture showing all the re-numbered highways. Please refer to this image link.
For a magnified view of the National highway map in India, please refer to this link.
'Highways for Life' is indeed the punch line for India as well.