27 Dec
Grilling lip smacking chicken in the Oven (OTG) is not all that difficult. Here's how I do the grilled chicken in the Indian style using the rotisserie setting in your electric oven (I use Bajaj Majesty 3400TMC OTG – Got it for Rs. 5500/- five years back and it works like a charm)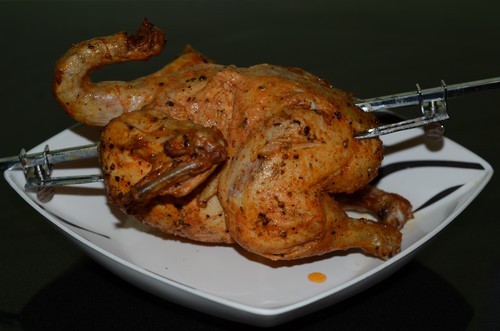 Ingredients
Whole chicken (without skin, guts): 1 Kg
(Live chicken weighing 1.5Kg will get you 1Kg meat after cleaning)
Salt: 1.5 teaspoon
Crushed pepper: 1.5 teaspoon
Chili Powder: 1 tablespoon
Garam Masala: 1 teaspoon
Ginger-Garlic Paste: 1 teaspoon
Lime Juice: 2 tablespoon
Yoghurt (Curd): 2 tablespoon
Sunflower Oil: 1 tablespoon
Method of Preparation
Clean the chicken well and drain off any water. Using a sharp knife make a few parallel shallow cuts or grooves on the fleshy parts of the chicken (i.e. on thighs, leg, front rib etc).
Mix all ingredients together and apply well on the chicken inside and outside. Keep it marinated in the fridge overnight.
Preheat the oven to 250 degrees. Skew the chicken on to the rotisserie, tighten the clamps and grill it at 200 degrees for about 20-25 minutes. Keep applying butter on the chicken every five minutes. You can see the butter as well as any remaining fat on the chicken getting melt and dripping down there by making this preparation a highly healthy chicken grill variation. Unlike Tandoori chicken or other barbeque recipes, there's no harmful carbon content in this preparation.
Once done well, enjoy your Indian style grilled chicken with your favorite drink, salads and carbs.
(Note: At the end of 25 minutes, if it is still not done, you may want to keep for another five minutes at 200-225 degrees. To check if it's done well, create a deep cut in the fleshiest part and verify that it's not pink near the bones)
In Pictures