Kumble and Ganguly have called it quits! Two extremely different personalities with altogether different skills but had one thing in common between them – The never ending fighting spirit. The way they showed their spirit were different as well. Ganguly was more outspoken, aggressive and controversial where as Kumble was a typical soft spoken and diplomatic Bangalorean.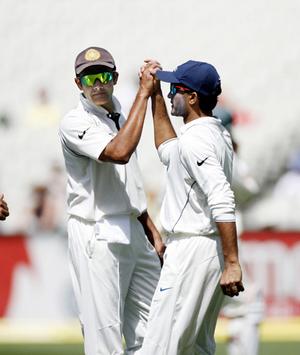 Kumble and Ganguly, along with three other stalwarts of Indian cricket formed the so-called Fab 5 that redefined Indian cricket and marched along into an era of professional cricket that showcased exceptional talent. This, according to me, was the transition phase whereby the Indian cricket rediscovered its winning ways. Before that period, barring the Prudential World Cup win in 1983, the Indian cricket was all about less agressive tactics and test cricket always had a draw oriented approach.
Anil Kumble
Anil Kumble, according to me, is well up there along with Murali and Warne as the finest spinner of modern cricket. When I say 'finest' it may not always mean the quality of spin but the altogether package of getting the work done! To be frank, I never enjoyed watching Kumble bowl – neither his action and run-up nor his poor athleticism and bad fielding. However, the never ending fighting spirit and patiencez is what anyone would fall for! 600 plus wickets in test cricket in twenty years is nothing but exceptional!
However, when I look back I still have the opinion that Kumble should have retired an year ago instead of taking up the captaincy. The reason was that since he took over the captaincy his bowling steadily deteriorated. Also, he was becoming something that is not 'him' as he put an artificial aggression around him during this period which was a major requirement for modern cricket captains. Other than this, I thought Kumble is/was as important as Sachin Tendulkar to Indian cricket though the fans almost always adore ONLY the batsmen here!
Saurav Ganguly
Whenever I think about Saurav Ganguly, I always wondered how he managed to play 100+ tests! Because, here is somebody, who was an accidental captain and more or less a One-day cricketer with limited technical abilities. But he became everything of Indian cricket, especially post 2000! There is no doubt that Saurav was a great fighter, but unless it was for his inclusion in the team as captain, there was no way he could have played 100 test matches for India – especially in a batting team comprising of Sachin, Rahul, VVS, Sehwag etc. I thought he played his role in Indian cricket extremely well, probably until the controversial exit, a couple of years back. But again, only Ganguly could have come up with the kind of resurgence – like a phoenix – that we saw in the past one year.
I would still call Saurav, one of the finest one-day cricketers and a good leader. At the same time he was a good politician and manipulator as well. He always knew what power, tactics and skills it takes to sustain the politically ruined (at least until a couple of years back) BCCI. And needless to say, he was the one who really took the fight on the opposition – including the off-field attacks. How many times has he got on to the nerves of Aussies?
Kudos to Ganguly and Kumble for whatever you have done to the World Cricket!
Question to the readers: What are the typical careers that these two could take up post their retirement?