With the IPL fever catching on, I thought of writing this little post on what I consider as the perfect IPL Twenty 20 team! Please feel free to suggest your 11 member team as comments below.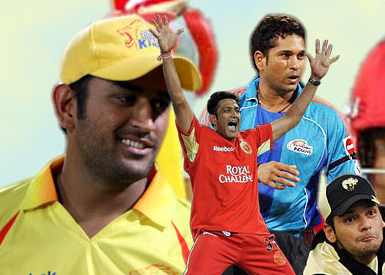 Please note that, I have picked only those players who are available to play in this edition (IPL 3) of the Indian Premier League.
My IPL Eleven
Matthew Hayden
David Warner
Ravi Bopara
Sachin Tendulkar
Jaques Kallis
MS Dhoni (Wicket Keeper)
Andrew Symonds
Chaminda Vaas
Anil Kumble (Captain)
Lasith Malinga
Muthaiah Muralitharan
Harbhajan Singh (12th man)
I did not pick the likes of Kieren Pollard, Kumar Sangakkara, Dilshan, Dwyane Bravo etc due to the lack of form. Also not considered is technically poor hard-hitters like Yusuf Pathan, Robin Uthappa etc. My bowling team consists of more spinners and medium-slow bowlers rather than express fast bowlers who can't do much on the Indian wickets. I have tried to pick people who are more or less consistently performing and are great team players! Jack Kallis, Andrew Symonds and Ravi Bopara are the picks when it comes to the allrounders! Virender Sehwag, Chris Gayles and Adam Gillchrist do not find a place as well in the role of openers due to inconsistent and unpredictable form. I felt that Hayden and Warner will further improve with more number of games in the opener role. Symonds' inclusion is debatable but the only other option probably was Suresh Raina. Overall, my team looks like a bunch of veterans but unfortunately IPL 3 has been all about the vintage class on display and most youngsters have been pathetic and inconsistent throughout!
Now, what's your IPL Eleven? I am curious about the permutations and combinations that you may come up with! Please leave your comments.