Note: Be sure to read till the end of this article to understand the new system thoroughly. This will really help you save some money on your cable bill. You may skip to the Channel Optimization section, if you already already know how the new TRAI regulation works.
The Government of India (TRAI) has come up with their new tariff policy for the DTH and Cable TV operators in India. This new TRAI regulation enforces uniform pricing all across India for the paid channels or broadcaster packages. We, the consumers (subscribers), are supposed to be empowered with this new move as one just needs to pay for what is chosen. However, the reality is far from that ideal world. The monthly subscription fees of most subscribers have shot up dramatically while some channels have disappeared in many cases!
One of the main reasons behind this issue is the lack of awareness on how to optimally choose your channels or packages! This post is an attempt to make you – as a DTH or Digital Cable TV subscriber – understand what to do in order to get the most bang for your buck! At the end of this article, I am sure to save you some money on your monthly TV subscription charges.
What is the New TRAI Regulation all about?
The following list outlines the rules by TRAI which are to be complied by all broadcasters and DTH / Cable TV providers. For the sake of brevity, I am mentioning only the most important points that are applicable to most of us as consumers.
All DTH or Cable TV providers (e.g. Tata Sky, Hathway) must provide an easy selection mechanism to their subscribers. This can be via apps, websites, manual forms etc but should help consumers choose the channels they want to watch
All providers should at the least offer a base bundle of 100 FTA (Free To Air) SD channels, in all geographies in the country. This base package will be charged uniformly at Rs.130/- plus GST (18%) across India. This comes to Rs. 153.40 with GST
The above base bundle must include the set of 25 Doordarshan channels that are mandatory. The consumer has the right to opt out of the other 75 free channels to make room for their other choices. These choices can be either Free or Pay Channels. Unfortunately, This is a rule that's being violated by many service providers till now and hence cheating the consumers!
In addition to the base package, the providers can offer any number of customized packages for their consumers. These bundles too must include the mandatory DD channels
The base charge of Rs.130/- (153.40, with taxes) is called the Base NCF (Base Network Capacity Fee). This's the minimum amount any subscriber has to pay to remain as a customer. Even when he/she hasn't selected any additional channels, that is
For every additional 25 channels, above 100, a Network Capacity Fee (NCF) of Rs 20/- + GST will be added to your bill. For example, if you have chosen 110 SD channels from your provider, your total charges will be the Base NCF + NCF 1 = 130 + 20 = (150 + GST)
For calculating the network capacity, each HD channel will be treated as equivalent to two SD channels. For example, in the calculation above, if you add another 10 HD channels to your list, this will be treated as 20 SD channels. Hence your total will be now 100 Free channels + 10 SD channels + 10 HD channels x 2 = 130 Channels (Not 120). Accordingly, one more NCF charge will be added for you (as you crossed 25 limit of NCF 1)
If you opt for any pay channel, the subscription fee of that channel will be added to the above total. TRAI has ruled that no pay channel can charge more than Rs.19/- per month
In addition to the free to air (FTA) channels, and individual pay channels (a-la-carte channels), the broadcasters (e.g. Zee, Sony India, Star Network, Times Network etc) can provide packaged products known as Broadcaster Bouquets. A bouquet is nothing but a bunch of channels bundled together for a fixed price – which is usually much less than the total prices of the individual channels in the bundle.
For example, the Times Network has a bundle called Times Bouquet 3 which contains 5 x HD Channels and 3 x SD channels and they have priced this bouquet at Rs 20/-
In short, a consumer has the option to choose either a package (usually not very optimal) from the provider or pick and choose what he or she wants to watch. In either case, a typical consumer will end up having a combination of the following:
Mandatory 25 Doordarshan Channels
Zero or more free to air channels (Usually it's never zero)
Zero or more a-la-carte (pay) channels
Zero or more broadcaster bouquets
The billing amount has three components: (1) The NCF charges, as explained above, (2) The total price of the paid channels and broadcaster bouquets you opted for, and (3) 18% GST on the total of the above two.
How to Shortlist Your Channels?
Now, this is where things get trickier. If you decide to continue with all those 100s of channels you have been receiving till now, your new subscription charges are sure to shoot through the roof. But then the question is 'have you ever watched all those free channels that have been aired your way?'
Hence it's time to write down only those channels that every member of the family actually watch. I mean all those channels that everyone – from the Pogo toddlers to the Aastha oldies – watch on a daily basis, and not once in a blue moon.
Now, you may scrutinize this list once again before submitting the same to your provider (or use their website or app or other subscription means). Typically, your list now should contain 20 to 30 channels in most cases, or say 50 or so in the worst case.
If you are going ahead with this list right away, you are not going to like the final bill amount that your provider may came up with! With all those Base Charges, NCF, Paid Channel charges and GST, you are likely to pay a few hundred rupees more than you were actually paying till now!
This is where TRAI has come to your rescue by providing a Free Channel Selector and Optimizer that will help you choose some bouquets optimally so that you can save a lot on your cable TV bill.
How to Optimize Your Cable TV / DTH Bill?
With the channels list that you have got now, you may visit TRAI Channel Selector portal https://channel.trai.gov.in/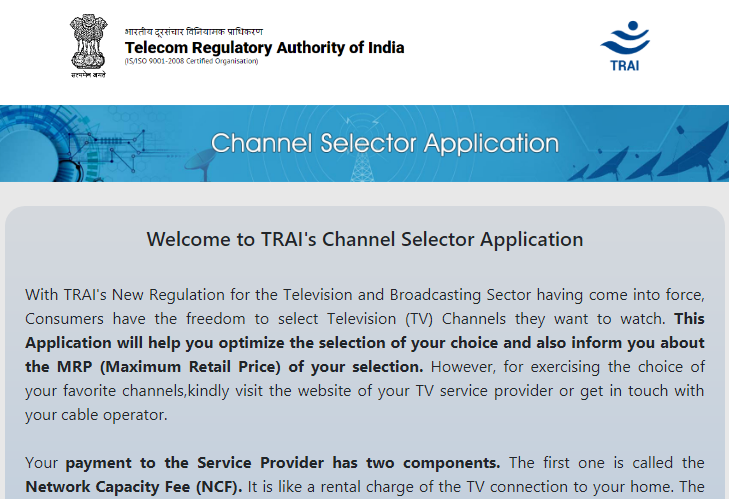 Scroll down the page and click on the Get Started button.
It now shows some 5 steps. You can skip through all these steps by clicking the Skip button on each page, till you land on the 'Choose Your Pay Channels' page. I mean, you don't really need to provide your personal information, state, language preferences, and interests at any point as requested in these 5 steps.
You will already notice that your minimum charges of 153.40/- is mentioned on the yellow bar on top.
You can now search (from the Search Box with a Lens image) for the channels you want and keep adding them to your selection. For example, you can see in the image below that I have searched for NDTV and chose NDTV 24×7 – from the three channels appeared as search results – by selecting the checkbox against it.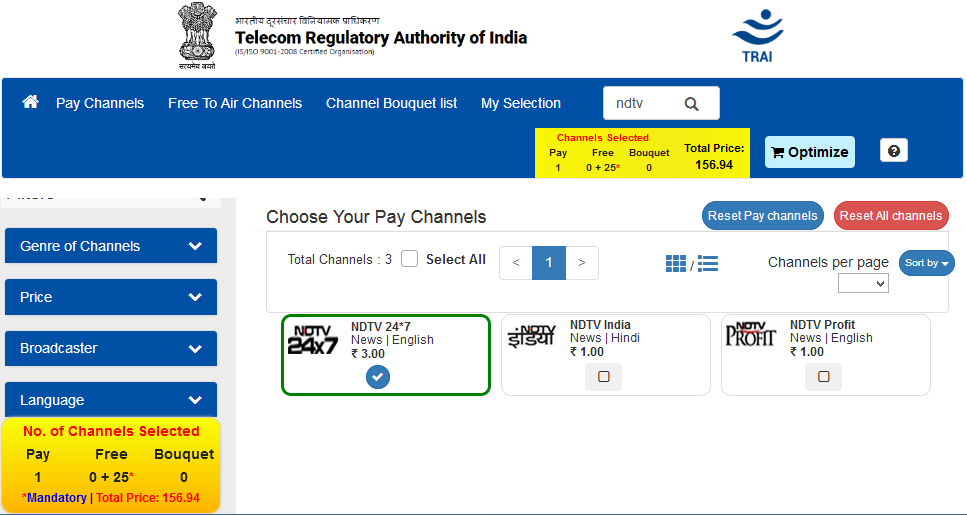 Using the same method, you can now search and add all those Pay Channels for your family needs.
If you don't find any channel there, you may search for the same by clicking the 'Free To Air Channels' menu item on the top of the page. You can switch between this menu item and the 'Pay Channels' menu item any number of times before you finish choosing all your channels.
As and when you select more channels, you can see that your subscription fee along with GST gets updated in the yellow box.
To review your list, you can choose the menu item 'My Selection' and click the + (Plus) buttons against each sub section (Pay Channels, Free Channels etc). You can see that in my case, I have chosen 25 pay channels, 5 free channels and the application has automatically added the 25 mandatory DD channels. My total bill as of now stands at Rs. 450.76/-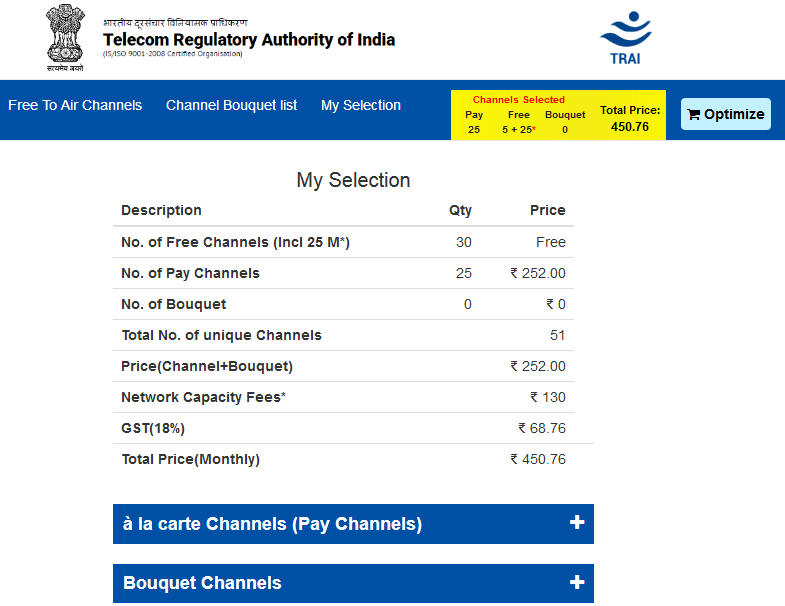 Once the list is confirmed, it's time to optimize your choices. By optimizing what the app does is to reduce your cost by suggesting certain bouquets instead of choosing each channel individually.
You can optimize your bill by clicking the 'Optimize' button on top right corner of the page. You have to again click the green 'Optimize' button and confirm the action on the resultant page. Once it's done with optimizing, it throws a screen as given below.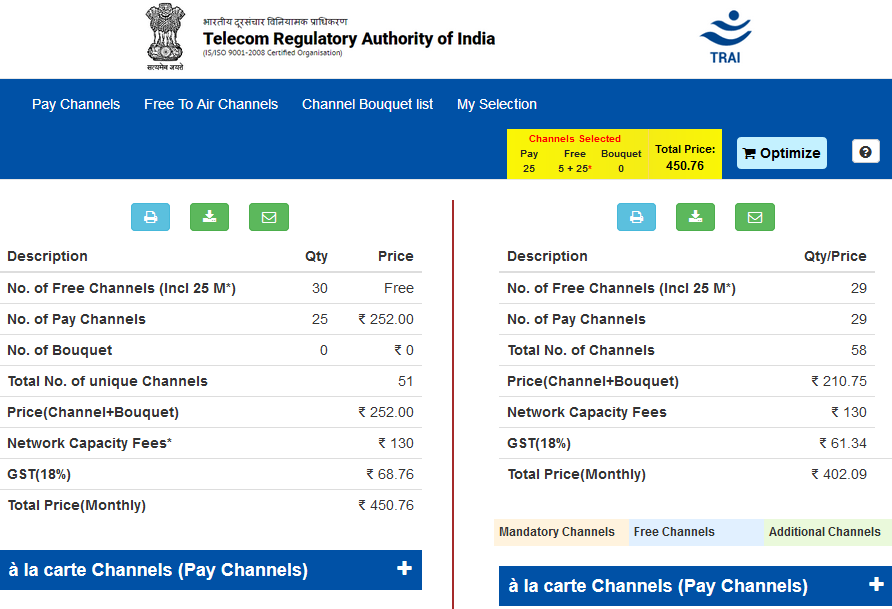 You can see that, in my particular case, my monthly bill is already reduced by about 50 rupees by optimizing. What the TRAI Channel Selector app has done is bundling a few of my channel selections into one or more Bouquets. You can review this by clicking the + sign against the Bouquet Channels.
As you see, my NDTV individual channels have been replaced with an NDTV South Life bouquet. Similarly, HBO, Cartoon Network, CNN International etc have been bundled into Turner Family HD Plus Pack and so on.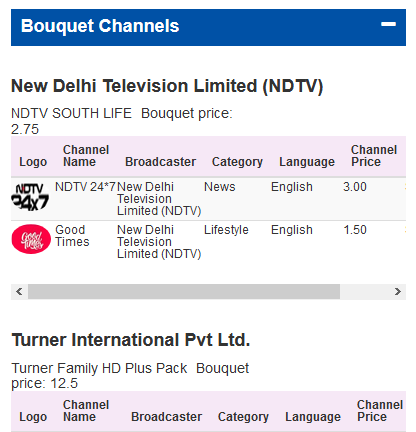 You can keep adding or deleting your choices and keep optimizing until you meet your family's requirements and based on your budget.
Please note that your savings from this optimizing process can be much more if your channel needs are higher. Once you are satisfied with this optimized list, you can send these details to your local provider. Or you can choose these optimized bouquets, paid channels and free channels by yourself using their online sevice. There is also an option to Save your selection using your mobile number and OTP. This didn't quite work for me so far. I actually manually copied my optimized channel content for choosing my final package.
Please also note that the optimization process, at times, increases the total number of channels than your original list. But the app keeps in mind your total price including NCF charges etc during the optimization process. Hence you are only going to gain from this tool, even when the channel count goes up.
That's pretty much about the TRAI Channel Selector and Optimizer app.
Fraudulent Activities by Service Providers
There have been numerous complaints from the consumers who are not complying with the TRAI regulations. Service providers like Hathway, Siti Cable Networks, Den Networks etc are the main culprits here. I am a victim of this rogue attitude from Hathway whereby the local service provider is messing with the rules. He is unwilling to remove the 100 free FTA channels that I don't want and blames the system for that! These channels are mostly low quality local channels that are bundled with annoying ads. Basically, the service providers are forcing these channels on us so as to protect their revenue stream. Essentially they want to bloat up your total bill by adding these trash channels via the NCF slabs. I am still fighting this out and spreading awareness till my DTH service provider complies.
Please refer to this ToI news to understand what I am talking about. You may share your experiences on this issue using our comment section below.
There are also cases where the service provider only allow us to add more channels but not to drop unwanted channels. This is another way of charging more than what the customer actually consumes. In other case, no customer support is provided for customizing the channels or addressing the issues. Some of these issues are being addressed by TRAI as per this news link.
That's pretty much about this topic. Things are improving with our systems. But the Government and the service providers need to come with a more proactive approach to solve the consumer concerns.
Let me know your opinion on the new TRAI regulation and its impact on your family's TV routine!