March 03, 2009 will be marked as a black day in the world of cricket! The touring Sri Lankan team and the match officials were attacked by armed men in broad day light when they were on their way to play the third day of the Lahore test.
What concerned most people around the cricketing world and political circles was the fact that there was not adequate secrurity provided to the players and officials. The terrorists came walking casually and started firing at the players' bus and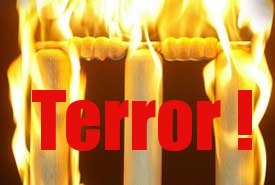 there wasn't anybody to fire back at them! Sri Lankan ace cricketer Murali was of the opinion that the attack sounded like pre-planned with more leaked out information. Chris Broad the match referee claimed that there was absolutely no policemen around to protect them. All these may fingerpoint to the PCB's inability to take care of the security of the players and Pakistan's inability to protect its VIP visitors. It may be recalled that the Sri Lankan team decided to visit Pakistan after India pulled out of the Pakistan tour following the 26/11 attacks in Mumbai.
It is not just about Pakistan
A lot of people must be happily blaming Pakistan alone! As an Indian and knowing the security system here I can tell you that India is not better either in terms of the law and order enforcement – So is the case with Bangladesh or Sri Lanka. However, the security (Z Category) provided to the cricketers are usually slightly better than that in Pakistan. Basically the entire sub-continent is not that safe.
The future of IPL 2 and the World Cup 2010…
The Champions League was alreadyh called off due to the terror and unfriendly political situations in Pakistan. Now, the future of World Cup is also at stake – not just for Pakistan but for the entire sub-continent. And the immediate impact is for the Indian Premier League (IPL) 2. Pakistan players have already pulled out of IPL and some New Zealand, England and Australian cricketers have already raised their concerns about visiting India for IPL. To make things worse, the Indian home ministry has requested BCCI to postpone the event as General elections in the country is clashing with the IPL schedules. I guess, the Government of India's stand on this is right! What is more important is the human life, then the democratic process (elections) and then comes cricket. BCCI, Lalit Modi and co may loose some money but anyhow, that money is going to only the players, sponsors and franchises and not the poor of this country (Probably making the IPL event shorter – perhaps 20 days or so – would have been the ideal thing to do)
Whether it's IPL or the World Cup, I guess cricket – and subcontinent cricket in specific – is not going to have a good time in the near future!