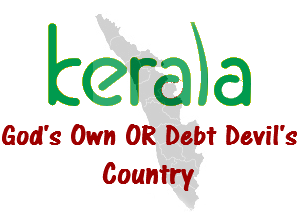 Kerala is one of the most gifted states in terms of natural resources, most educated manpower, high health standards, highest life expectancy, women empowerment, rich art & literature heritage and what not? Unfortunately, the state of affairs in "God's own country" right now is not as green as it looks from 10000ft above the ground reality.
Today, the state is more known for serious issues such as alcohol addiction, high number of suicides, frequent hartals / bandhs, 'quotation" gangs who commit political murders etc. Most of these problems are caused by frustration among the educated but unemployed youth while the expectation around consumerism and quality life style is quite high for most of these people. Even worse, it has been a borrower state for decades now (no self-reliance) and has a massive debt of 1.15 Lakh Crores (internal + external) at the moment which is said to be at 30% of its GDP! Unfortunately the state's revenue is not really coming from core sectors such as manufacturing or agriculture but primarily via tax revenues, tourism and money transfer from abroad. Some haste decisions such as the recent alcohol ban – which was taken purely for political gains – is going to aggravate financial trouble for the state with guaranteed spike in unemployment rate as well (The unemployment rate already hovers around 16% – for people below 60 – which is highest among all states in India despite lakhs of people migrating and working in the gulf countries).
So, where did all these problems in Kerala arise? How come each child born here has a high debt burden along with something good numbers such as great high life expectancy and other health indices?
The causes are mostly known to all. Kerala has been a Communist state for many years now and one of the most liberated states due to the same reason where people are more or less equal in terms of their social status, rights to everything in life. I must say that the communism initially was very successful in combating social imbalance and injustice but things changed after a couple of decades of progressive work by the communists and similar revolutionary establishments. Currently, the same passion with which people fight for their rights, is not shown when giving back to the state by showing and committing to their responsibilities. This is exactly why there're numerous trade union driven strikes, hartals and hence none of the industries would survive in Kerala. Well, trade unions are rampant in many other states too but then their agricultural sector wasn't affected as badly as it did in God's own state. In Kerala, even the farmer community wouldn't be able to do agriculture due to shortage of manpower and those labour class who suddenly decided that they wouldn't do any job for 'bourgeois' in that key sector. At the same time, the same average labour class is willing to do any kind of construction or agriculture related job for much cheaper wages (considering the cost of living) and poor conditions abroad – I am talking about that section of the Malayalees in Gulf countries.
Where does Kerala head from here?
Well, mounting debts may not be a big issue for many other states (some may have even higher debts) in India that have proven track record of agricultural and manufacturing output. But a state like Kerala where the money comes from very limited sectors and tax routes; it is a very serious issue. Soon, the government wouldn't be able to provide salaries to its employees, repair roads or complete basic (survival) development projects. The state is already in doldrums and it can only get worse from here if corrective actions are not taken immediately by some strong governance, ruthless law making and strict action against offenders.
So, what is the need of the hour?
A few immediate changes are required in the mindset of people as well as the government so that the state can get back on track. The state is entering a point of no return when it comes to its finances and such a situation can result in severe law and order situation and many social issues.
To begin with, for heaven's (i.e. God's own country) sake please stop Hartals and Bandhs immediately by force or the right law making. There is no point in observing a state-wide bandh or hartal for the death of a local leader (of any party for that matter) or when Saddam Hussein is executed. Keralites cannot afford to inject huge losses to the state's exchequer by these forced shut downs several days every year.
Next, it's high time the state modernized its agriculture sector. In the history of this state, most of the communist revolutions and strikes happened around agriculture sector and farmers. Due to this reason, it was never allowed to grow in terms of implementing modern technologies to fight manpower issues hence resulting in poor outputs except in some crops and spices. Kerala now has reached such a bad state where the basic labour has to come from Bihar, Bengal and UP but at the same time output is not optimal either. Modernizing the agriculture sector with the right technologies is the only way forward for this state as there is not a lot of scope for big things in the manufacturing sector. Self-reliance in food matters is the most important aspect for any state!
Another big issue to tackle is the dangerous consumerist traits that most Keralites exhibit. Most of the visible issues such as alcoholism and suicides are related to high expectations from life and ridiculous levels of consumerist attitude while the money just doesn't exist. It's common in Kerala that, those people who can't even afford a 1-bedroom home always dream of and tend to build a two-storied 3000sqft home. Wedding would be extravagant with tons of gold that the bride wears – no matter how much her father had borrowed. As a highly-literate state, it is high time Kerala bid good bye to such show-off life style. Things wouldn't change with awareness campaigns alone but enforced harsh laws to address this issue (e.g. very heavy taxes and penalties on big houses etc)
Then there are these very dangerous evils called campus politics and religion based politics. Both these things have drooped to such a bad state where campus elections are fought with vengeance whereas the religious politics is sure to hamper the development ideas that a coalition government might have. Hence the bad politics has to come to an immediate end in Kerala. If any state in India can achieve it, it's Kerala and it's time to say 'NO' to (bad influence of) campus politics and all religious parties – be it Muslim League, SNDP, NSS or Kerala Congress.
While large scale manufacturing and heavy industries may not be easily possible in such a dense and small state, the manufacturing and industrialization definitely need to leap forward with some big drastic steps. Kerala needs to prove to the outside world that no company will be closed down due to petty strikes called by trade unions and hence a new revolution is realistically possible here. Without having some new industries – other than fisheries, tourism and spice exports – there is no future for this state. Well, it has the bad history of closing down many companies in the 1970s and 80s due to union strikes, but with that part already taken care of (from my first point), it can be a new beginning for Kerala.
Finally, the government should first take measures to improve the financial situation of the state even before deciding to discontinue revenue generating businesses. I am referring to the recent alcohol ban policy here. It may sound unethical to expect that the state should make revenue at the cost of its citizens' and families' health and peace (which what the politicians are tapping into), but it's better than everyone dying out of hunger, right?
Dear country men and political leaders of Kerala, As you celebrate the Onam festival this year, please spare some time to realize where you are heading! Most of the things are in your hand while the new central government definitely can be of good help if some good planning and change of attitude is guaranteed from your end.
(The writer is a Keralite too although living outside the state for quite a few years now)