Last Sunday – having completed all my blogging tasks for the week – I was wondering what to do for the rest of the afternoon. Since we were already heavily loaded with healthy salads and fish based lunch, preparing some dessert sounded like a good idea. However, all that was left in the fruit basket was a lonely semi-ripe papaya which is something I hate a lot because back home in Kerala we had them aplenty and was part of daily menu in various forms. Anyhow, I decided to experiment with Papaya to make some dessert. The initial, idea was to eat it as raw fruit but then I just remembered seeing something on the TV long ago. Hence without following any specific steps in mind, I started off with my own Papaya Halwa recipe that finally defeated the papaya hater in me.
Papaya Halwa Recipe
Here's my variant the basic papaya halwa without milk or milk powder.
Ingredients
Semi-ripe Papaya – 1, weighing around 1 Kg
Sugar – 150 grams – You may add more based on your tastebuds
Pure ghee – 3 to 4 tablespoons.
(I used homemade ghee that our maid had prepared a while ago from leftover milk-skin)
Almonds – 20 to 30
Cardamom powder – Quarter teaspoon
Cloves – 3 or 4
I didn't use cashew nuts which is one of the main ingredients in many Indian halwas mainly because I prefer almonds to that fatty nut. Further no milk, milk powder or condensed milk was used either in this recipe.
Method of preparation
I didn't manage to shoot a video or use my DSLR, because I didn't quite know final outcome could be. However, I managed to click some mobile pics and let me add them here – not that they cover all stages of cooking.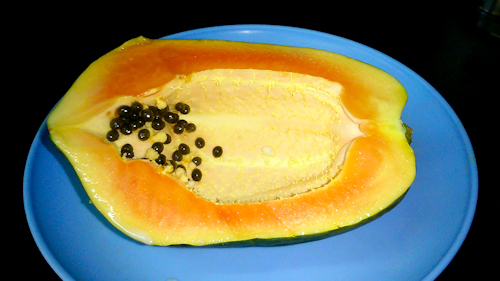 1. Remove the papaya skin and seeds and chop it into small pieces. You may want to keep wiping the burning papaya milk during the peeling process – That's what I hate the most about papayas.
2. Heat Ghee in a non-stick pan and add the papaya pieces. Keep stirring in medium flame for about 12-15 minutes. By now, the papaya would have started softening and you can mash it into a nice thick paste while on the stove.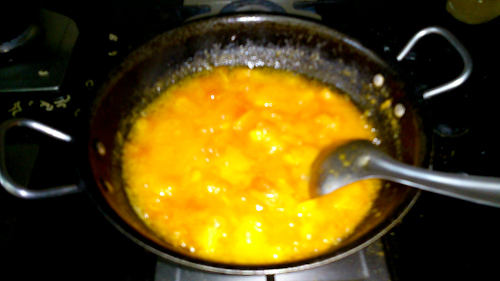 3. Leave it for a longer time say for another five to ten minutes on low flame if it's still watery or juicy. You can add the cloves at this point and stir occasionally.
4. Add 100 to 150 grams of sugar and stir well again for a couple of minutes. You can go for reduced sugar levels based on your taste and how sweet the papaya is. I, for one, like to have very less sugar in my halwa.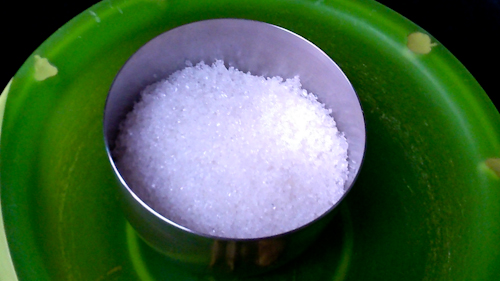 5. Add cardamom powder and crushed almonds once you see Ghee formation around the halwa. This is when the halwa clearly move around the pan swiftly as a single ball. That's when you know that it's ready!
Tip: Just in case you feel that your halwa's consistency is going to be thin, you may sprinkle a spoon of fine rice floor during step 4. It's not a crime to do so and the rice flour is a healthier option than Maida or corn flour.
Another tip: Once it's done and the pan is still very hot, you may tilt the pan and remove excess ghee from it right away using a teaspoon. I managed remove half of the ghee that I added in this fashion because I just hate oil dripping halwas and similar desserts.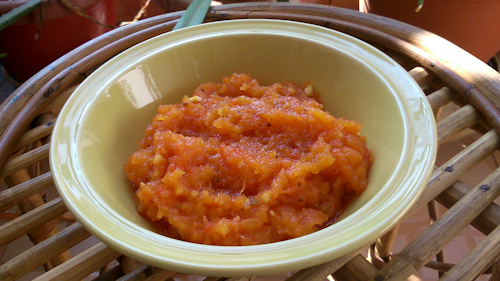 That's my papaya halwa recipe which is rather lean compared to majority of halwa varieties because we didn't add a lot of sugar, milk or other fatty stuff. It tastes fantastic and doesn't taste as boring as raw papaya.
I am a Papaya lover again!