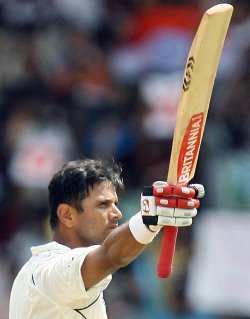 Only a week ago I wrote about the need for Rahul Dravid to take a break and I am taking back all that imagination right now! In a boring Mohali test that seems to be heading towards a draw, Rahul Dravid's century had a lot of depth, determination and a statement underneath that he's still the only WALL in Indian cricket.
Unlike his recent outings with the bat, this one was exceptional. He blocked, drove, pulled, cut and stood tall with grace and confidence! It never looked like he was out of form until yesterday. The amount of pressure the man was going through from his compatriots and media was too much. He has now silenced his critics but the man – one of the best diplomatic persons of the game – kept low profile but seemed to be brimming with a lot of emotions.
Now that he has scored close to 800 runs (including two centuries and two to three fifty's) in this calendar year, I guess his career can be stretched to another year or so. It will be really good for the new Indian side, if he continues his newly discovered form. Right now, the youngsters should take a leaf from his patience and fighting spirits when going through bad times. The man played domestic cricket, worked hard in the National Cricket Academy and consulted experts to check and cross check if he is doing anything wrong and continuosly strived to improve. An amazingly committed and exceptionally decent cricketer!
The Mohali Test
The weather gods have not been very kind to the beautiful Mohali stadium and pitch. If all five days of play was possible, it would have been an exciting match. But now, Day 3 into the match the second inning has not started yet. Talking about that, I must say that Mr.Dhoni played some negative cricket by not declaring leaving at leat twenty overs to the English side on Day 2. Let's wait for the rest of the match but I am more interested in what is happening in Perth right now and will write soon about it with a lot of excitement soon (if SA gets to win, that is)
Test Cricket Rocks Again!