I have been longing for an affordable 5-seater SUV in India for a long time. The likes of Honda CRV – and even Skoda Yeti for that matter – is out of my reach while stuff like Mahindra Thar (though not exactly a five seater) are more for adventurous stags or Army people. I got really excited when Renault launched their mini SUV the Renault Duster in India (Dacia Duster in Europe) and I actually test drove it last evening in Bangalore. Now, is it worth all that excitement and hype? Let us find out.
Review material
The variant I tested was a white colored 110HP Diesel high end version without the option pack. i.e. Duster (D) – RXZ. This model costs 11,04,702 Ex-showroom which means around 13.65L on road in Bangalore – thanks to the high Road tax that we have here. If you were to take the option pack (leather seats and wood finish on inside door handles) the price goes up to 11,35,102 (Ex) and 14,01,131 (On road) respectively for the high end Diesel variant. 14 lakhs is a big amount and hence the expectations were really high for me.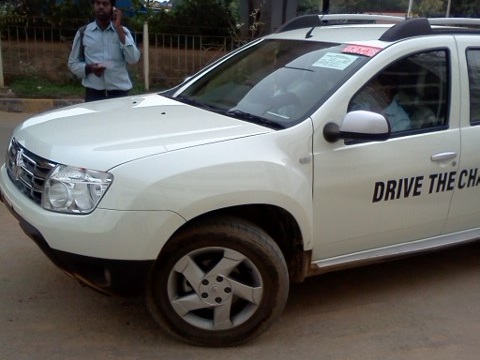 Renault Duster – Exteriors
From its high and wide stands, I must say that it's one of the good looking vehicles in that price range – especially since I have had my reservations about the rear styling of SUVs such as Mahindra XUV-500 and Skoda Yeti. As for the Duster, it looks good from almost all angles. The muscular looking wheel archs and chromy grilles with nicely designed headlamps add to the punch. If something has to be improved in the exterior, that's the poor looking alloy wheels (design wise), the door handles and perhaps the black plastics on the air dam. May be the plastic part can be camouflaged with a nice looking IND license plate? Despite minor hitches, I give a 4 / 5 for its exterior design.
Interiors
Now, let us open the door to get to see the problems right away! The door of the Renault Duster showed the poor engineering and 'Indianising goals' behind. It opened almost like an Ambassador or Tata Sumo – Well, it's good to be heavy but the doors should offer firm and predictable movement. We are talking about a vehicle that has hardly run 5000 kms and that's a minor engineering disappointment – but nothing compared to what is expected further inside.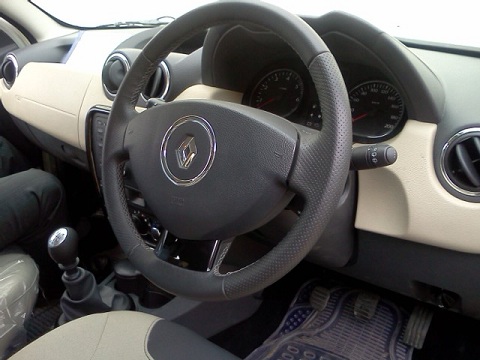 The photos of the Renault Duster interiors looked stunning on the web and in their commercials but I must warn you that you will be thoroughly disappointed when you take a closer look. The beige and black rough plastic combo on the dashboard looks and feels pathetic. I mean really P-A-T-H-E-T-I-C when compared to any vehicle with that kind of a price tag. It definitely looks like it was made solely with the final price tag in mind. And the typical Renault AC vents and poorly designed controls positioning adds to the misery. There's a factory fitted entertainment unit which looks (and sound) cheap but the gear knob and the steering column looked decent. The blue tooth and audio controls are positioned at a weird location right behind the steering wheel right hand side and looks like the steering column design was reused from the Europe (blinker control is on left and wiper lever on right). Overall, I was in a confused state after seeing all the mess out there. I couldn't really find a single control where I would expect it naturally – probably horn being an exception ?
Talking about the door panel garnishes and seat fabric – it is pretty much of the same poor quality as the plastics – Very bad looking and taxi quality, I would say. The option pack comes with a wooden trim as per the sales guy (chrome as per the manual) but the one I drove had highly glossy black plastic handles that was gross. The floor carpeting was equally bad with thin looking material all around.
The other weird thing was the rear seat A/C vent that juts out too much into almost the private parts of the rear middle passenger. This is the first time I am seeing something like that on a car. Probably, they could have changed the orientation of that unit to the front to create a beautiful armrest for the driver.
Overall, I would give a 2 / 5 for Duster interiors and if you ask me this is the single most reason why I wouldn't buy this vehicle. I mean, you can change pretty much everything else including alloys, upgrading tyre sizes, leather seats but what the hell can you do about the dashboard?
The Engine, Gear box and Driving experience
Time for some action. I started the engine with the windows rolled up. The engine gave a nice grunt and with all that poor plastic assembly, it still wasn't all that noisy inside the cabin if not silent. The sales person gently reminded not to lift the little ring on the gear lever or else I may engage the reverse gear. Yes, we have a 6-speed Gear box in Duster and the reverse as well as the first gear has to be engaged to extreme left towards the front. However, on engaging the reverse gear there's useful beep that reminds me where you are at.
I took of the vehicle and I liked its heaviness and pull. This vehicle – at a low weight of 1150Kgs or so – actually felt stable and nice. Slightly higher seating position actually don't feel weird and it feels almost like a car. The visibility towards front and sides is excellent while the smaller and roundish back light (rear windshield) restricted my viewable area a bit, I thought.
Before I joined the highway, I had a stretch of almost non-existing entrance to the road (Bangalore roads!!!). The high ground clearance (205mm) and mini-offroader like capabilities helped me to maneuver to the main road pretty easily. Actually the 2WD vehicle almost felt like a 4×4 off-roader in lower gears. Very nice indeed!
As for the power, the engine is smooth in all gears. It didn't knock when I was slowly moving under 10Kms/hr in 2nd gear, nor it complained when moving in 4th gear at 35km/hr. Excellent vehicle for very bad city traffic conditions, I must say. When I accelerated gradually, I could feel the turbo charger kicking in between 1700 and 1800 RPM. This is very good because when you need power in 2nd or 3rd gear you can avail it. The best thing I liked about this vehicle is its 6-speed gear box under which the car never complains. However, I didn't ride too long with the sixth gear, I must add here. Overall, it is not a very powerful engine but adequate and felt nice. I am sure it should do good on highways as well with the overdrive options.
The ride quality is very good and so is the cornering without any sort of body rolling. i.e. even while making good use of its very low turning radius (5.2m), it didn't give any hint of instability. In fact, on all types of roads and in all speeds it was pretty good. I particularly liked the electro-hydraulic steering which wasn't butter smooth like some cars but nice and firm. It felt firm and nice. And at 248Nm torque, I would think that it can easily pull some weight without taking toll on your fuel bill. The sales man claimed that it would give a mileage of 13-14km/ltr of diesel in city traffic conditions, which I tend to believe.
A mention about the brakes (front disc and rear drum) – the top variants are equipped with ABS, EBD and Brake assist which together does a good job in my braking experience on gravel roads.
Overall, I liked the way the 1.5 litre dCI engine behaved assisted by a good gear box. I would give 4 / 5 for the engine and gear box.
Other features

The top variants are equipped with almost all that you can ask for – Airbags, 2DIN integrated audio entertainment, a 12V socket, USB-Aux in, keyless entry, Electrically adjustable ORVMs (not electrically foldable), blue tooth, reverse parking sensors and there was even a switch to turn off the parking sensors. It all boils down to getting used to where these switches actually are! Overall, for its price, I must say that this vehicle is feature rich.
Summary
Overall I would say that the Renault Duster in India is a failure in terms not living up to its brand image – every other Renault model is good looking in its class, I would say (Fluence, Koleos and even Pulse) . As I mentioned above, if they had worked on the interiors and increased the price by 1 lakh, I would have still bought this vehicle. And that's the exact message that should go to Renault from the Indian consumers. Let them not end up like other foreign car manufacturers who initially offer quality and then start the cost-cutting there by providing cheap stuff for the Indian consumers.
Having said that , there is a lot of buzz and excitement from the taxi crowd for the 85BHP diesel model that starts at 8 Lakhs (Ex) and offers excellent mileage. I wouldn't surprised if that becomes a huge hit but the higher segment thoroughly disappoints.
What I liked the best about this vehicle?
Exterior looks and styling
Pricing of the Diesel variants
Reasonably powerful and responsive engine
6-speed gearbox
Drivability and composure of the vehicle including minimal off-roading capabilities
Huge trunk space (475 Litres)
Claimed mileage
Low turning radius and high ground clearance
What I hated the most?
Cheap interior plastics and fabrics (say that 100 times) – Can't do anything about it!
Alloy wheels design and tyre (need to upgrade to 235, manageable)
Protruding rear A/C vents (somewhat ok)
Positioning of the controls (still ok)
Service attitude (Are Mahindra people still at Renault?) (still ok)
Not a 4×4 (still ok)
Overall Rating: 2.5 / 5
(The rating would have easily become 3.75 had they provided good interiors)
If you happened to really test drive Renault Duster India version, you may share your experience here!