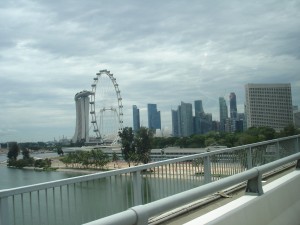 We – self, wife and our elder son – just came back after spending an amazing holiday week at Bangkok, Pattaya and Singapore. Though this trip was pending for almost four to five months now, the decision to leave last week was a pretty quick one as we didn't have kids passport processed until last minute. But thanks to the new Passport Seva Kendra (PSK) service in Bangalore and their online customer support, we got the passports processed on time and further the Singapore Visa pretty quickly thanks to our tour operator friend Sharath.
Though I have a lot to write about Thailand and Singapore, let me be crisp and short with my narration.
Singapore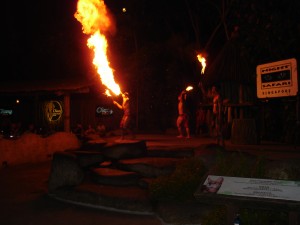 We decided to spend our first two days at Singapore as majority of the activities there were around theme parks, site seeing and various rides. Singapore is right at the top amidst the four or five developed nations in Asia and everything that you get to see out there is very well organized and clean. It is such a small country with an area of just 710 sq km and population of 5 million. In fact, you may hit the Malaysian border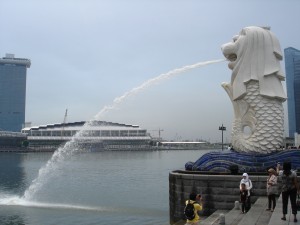 within an hour if you start driving from the heart of the city. Most people in Singapore can speak/understand English as it is the primary official language followed by Malay, Mandarin Chinese and Tamil – thanks to the composition of early migrants from Malaysia, China and India respectively. Singapore doesn't have a very old history. It's a reasonably new city and without a major distinct culture, in my opinion.
The Singapore Visa (two year validity with multiple entries) costs just S$30 or USD 24. As per the new requirements it requires two copies the passport size (3.5 x 4.5) photographs in matt finish and white background with 80% of the area occupied with your face. It takes only a day to get a Singapore Visa at their consulate.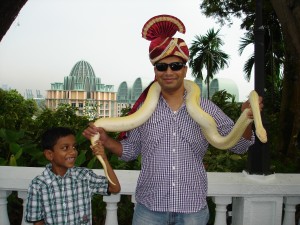 Since ours was a package trip in Singapore, we got to stay in the assigned hotel (Hotel Grand Chancellor) in Little India area. I would not recommend this hotel for you due to their poor front desk assistance, crowded and unorganized cafeteria. Also, the room that was assigned to us had no latch for the bathroom door and had absolutely no wardrobe to hang clothes. However, if you are an Indian and would like to eat Indian food near the hotel, you may find this place convenient. As a matter of fact, Little India and China Town areas are the only crowded and little bit unorganized areas in Singapore to put things a bit positively.
Major attractions in Singapore
The following are what you should not miss in Singapore:
Sentosa Island and things to see there in such as Song of the sea, Sky ride, Underwater world, Dolphin lagoon etc
Singapore night safari – Awesome experience where you get to see animals very closely during a tram ride. Some basic animal show follow that. This place also has an exciting tribal dance show
Jurong Bird Park – Watch exotic birds and take pics with macaws. They also have an exciting birds show whereby birds do unbelievable things
Places such as Marina Bay, oldest Hindu temple, Little India, China Town etc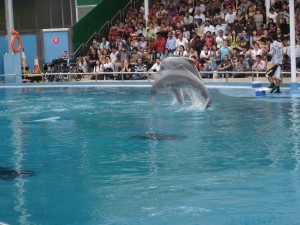 One could also think of visiting the Universal Studio, if you are interested in the kind of activities it has to offer.
In my opinion, Singapore is not a great place for shoppers from Asia as nothing is really cheap out there. However, Europeans and Americans may find Electronic gadgets slightly cheaper.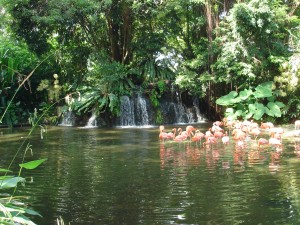 Food is relatively more expensive in theme park areas (e.g. Sentosa Island). Also watch out for 'free' accompaniments such as cashew nuts, pickles, wet tissues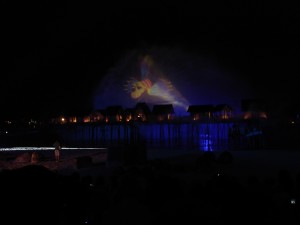 that comes to your table without ordering. Finally, they will find a place in your total bill even if you do not consume it. You have to say 'NO' to them up front if they aren't to be billed.
Overall Singapore is an exciting place but only for a day or two max. It is a very safe place due to its strict law enforcement practices but more expensive to live compared to its neighbouring countries. If you have visited any modern European or US Cities, you may find Singapore a bit boring.
Thailand – Pattaya and Bangkok
Our Pattaya and Bangkok stay turned out to be more exciting than the one at Singapore for the following reasons:
Thailand is a country thriving mainly on tourism and hence the hospitality is exceptional. They give respect to every visitor and treats them with utmost warmth and smile
The cost of living is very low as compared to other Asian cities with similar facilities
Food is exceptional and cheap – especially the seafood
Traditional Thai whole body massage provide excellent relaxation during your vacation and it's amazingly cheap
Whole bunch of activities in the sea as well as on the shore
Nightlife in Pattaya is breathtaking – not talking about the one for single men alone 🙂
A visit to Thailand doesn't need a visa in advance as on your leaving your country but you can get one through the "Visa on Arrival" counter at the Bangkok International Airport (Suvarnabhumi Airport). This Visa is free and all that you need to declare is how much of foreign exchange you have with you while landing in Thailand. The Bangkok airport is probably the best in Asia the only problem being the quality of English that they speak – many officials (forget alone other citizens) do not speak good English but they somehow manage to convey and understand.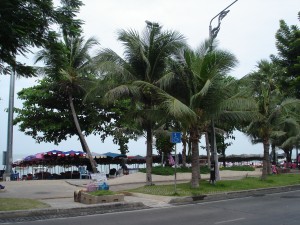 Pattaya is a small city that is about 2 hours drive (~160 kms) from Bangkok and the taxis cost around 800 to 1000 Thai bahts (1 baht = around 3 US cents). We stayed at the AOne Hotel in Pattaya which was an excellent 4-star hotel to stay. The new wing of the hotel is in the shape of a cruise vessel and the rooms are well appointed with many of them facing the beach. It is hardly 100 meters away from the beach and very close to the happening beach boulevard and walking street.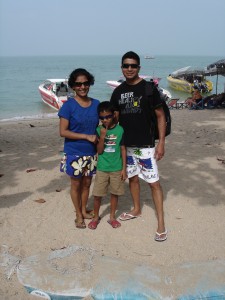 The breakfast spread in the hotel is excellent and I highly recommend this hotel for your stay in Pattaya. The staff out there are extremely friendly too.
We landed in Pattaya in the evening and ventured out immediately. It was an awesome sight in the evening with 100s of bars and restaurants along one side of beach road. They were all lit up and had live bands there in. Needless to say, Pattaya is known for 'other' activities as well and hence there were plenty of beautiful Thai girls in all bars – many of them sitting along with their customers.
After a light seafood dinner (exceptional) and a couple of drinks, the first thing we tried out was a foot massage. The 1-hour long foot massage costs between 250 to 350 bahts and it is a highly relaxing experience and probably a must-have after wandering around the beach on a long day. The Thai people treat their customers like kings and queens (in fact gods) and even a small tip is highly appreciated. 20 to 50 bahts is a very good tip amount for any big service.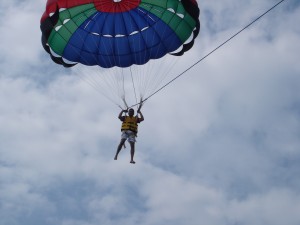 On the next morning, we headed for the Coral Islands in a speed boat. Before that we eased ourselves into bermudas (80 to 120 baht) and slippers (50 to 100 bahts) that we purchased from the beach side vendors. We first dropped by at the floating para-sailing platform and all of us had a wonderful time with sailing. Like most other stuff in Pattaya, the para-sailing was inexpensive as well – I think it was around 400 bahts per person.
After our parasailing ventures, we moved towards the undersea walking area which was near a stationery boat another couple of miles away. This was the first time, I was doing a walking undersea and it really turned out to be an exciting thing. It was my wife's birthday on that day and she had a real rocking b'day. They actually take photographs and videos for our underwater walking and that part is a bit expensive.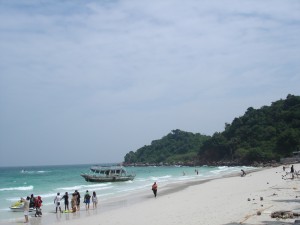 Next in line was some time on the coral island beach where we men (Sharath and myself) enjoyed some Singaporean, Malaysian and Thai brand beers (Singha, Tiger, Chang etc)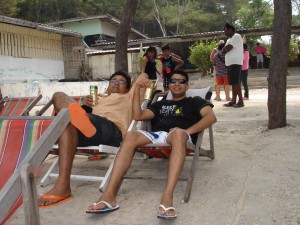 on the beach while my better half and kid ventured into the sea. This beach is very safe until about 2 O' clock by when the tides are in. One or two hours at the beach and it was already time to take a look at the corals. We were transferred to another boat with glass bottoms to watch corals but due to the sunlight I could hardly see any. Anyhow, a couple of others were convinced.
In the late afternoon we were already tired and we thought of having a traditional Thai whole body massage. This was the best massage I ever had in my life. Two long hours of massage and I was already sleeping and snoring five minutes into it. It costs something like 500 bahts for 2 hours and probably 50 baht tips.
After the massage, we – without the kid – went for a special show that I do not want to mention here.
The last item for the night before the lobster dinner was the famous Alcazer show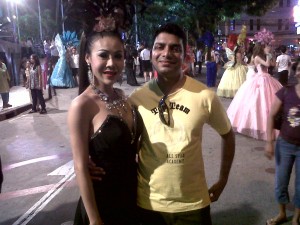 which is a breathtaking ballet cum dance performance by beautiful ladyboys. I didn't quite know that they were shemales until the show was over. After the show, I took a picture with one of them. Shemales are a huge community in Thailand and they are respected well there. They get to do regular jobs like other people and I thought that's a very good thing as compared to the poor state of that kind of people in countries like India.
A day in Bangkok
The next morning, we set out for Bangkok and visited the Sri Racha tiger zoo en route.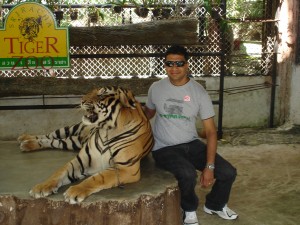 It was yet another amazing experience where we saw tiger show, crocodile show and elephants performing various things. We also got a chance to take snaps with elephants, tigers and tiger cubs. That was the first time I really touched an adult tiger while the trainers, tiger, myself and the photographer remained within the cage.
In Bangkok, we got to stay in the 22nd floor of the Hotel Amari Atrium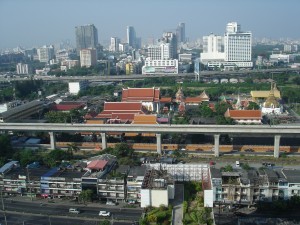 after we got a free upgrade to a suite. This gave us beautiful view of the city and it was really looking great from up there. Rest of the evening and most of next day we spent time on shopping in Bangkok. Bangkok is really a shoppers paradise for cotton clothes, leather bags, electronics etc.
That was like the end of an exciting five nights and we never wanted to say "sawatdee ka" (Hello as well as Goodbye in Thai) to the beautiful Thai people. With a pledge that we will go back there again next year, we boarded the Thai airways flight – Thai smooth as silk!
PS: Anybody interested in exciting Thai packages may please get in touch with Sharath (using his facebook profile given at the top)