Shanthakumaran Sreesanth has a wonderful name! His last name means 'prince of patience' and his first name emphasizes and adds further respect to 'patience'. With loads of virtue in his name, he should not be the same personality as he is today, both on and off the field.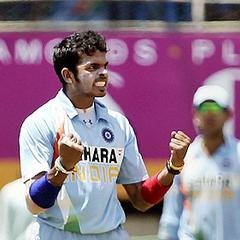 There are a number of people who creates controversies on the field. This chap however seems to carry his troublesome tongue and body language further to his life beyond cricket as well – latest being his tussle with the hotel staff in Bangalore, over a noisy air conditioner in the room.
It is not even two years since he shot up into fame. All these years he was put up in a middle class family home that had no A/C and further he rises from one of the most humid parts of India. Getting disturbed by the room A/c must be the last thing one could think off to pick up a fight – Height of arrogance, what else?
Kerala has produced some wonderful sportsmen over the years who have brought fame to the state and the nation. A few names include P.T. Usha, I.M. Vijayan, Jimmy George, T.C. Yohannan, Cyril Valloor and Anju Bobby George. These people are/were not only highly successful over so many years in their respective career but also maintained humility despite becoming international fame. On the other hand, this chap, Sree-Ashanth, is not complementing his amazing talent with diplomacy, composure and emotional maturity, which probably is going to cut short his career. If his behavior is not fixed right now, it will be bad for himself as well as for Indian cricket. I sincerely hope that his parents, mentors, friends, captain and BCCI inject some sense into his arrogance-filled-brain affected by instant fame.
What do we call when people have such ironical names v/s behavior? OxyMORON??
Tailpiece: BCCI has launched an enquiry into the matter and has even asked for Hotel Ashoka staff for explanation or their version. What do BCCI think of themselves? Are they the supreme court of India or something?