Well, there is nothing to hide. As a matter of fact, I am a 40 year old today! Though my official records state that I was born in 1971, according to what I learned from my parents, I was born on October 1st, 1970 and hence I go by this date for non-official records. This birthday mismatch was a common thing with many people who were born in village places at that time because there was no concept of birth registration until you hit schools.
So, how do I feel about being 40? Obviously nobody wants to get older and I am no different either. I am in the middle of middle age now. Next logical phase is the old age and I do not want to think about it for the time being 🙂
A look into the past
I was born in a remote village place ('Annamanada' if you can pronounce it) in Thrissur district of Kerala at a time when electricity was a luxury. I remember getting our home electric connection when I was 7 or so. I must say, though, that I am among the luckiest people in that beautiful village (even now it is) because both my parents were employed in the government service.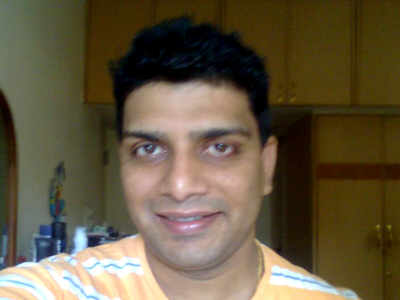 As a child, I went to school at the age of 6 or so and not at the age of 3 as it is the case with today's kids. I was put into a Malayalam medium Government school which didn't have proper walls, sanitation arrangements or even a good quality well to get drinking water though our beautiful river was very nearby. However I, as a child, was first groomed by some of those loving teachers and then my mother who herself was a teacher in another school nearby.
My father, a Marxist, played a crucial role in shaping my personality and certain in born skills. I strongly believe that it was my father the all-rounder who is responsible for the person that I am today though I do not possess even 25% of the various skills that he had as a youngster. Because of him, I was able to do the basic English reading and writing as a four year old. In fact, I learned the alphabets when I was 3, thanks to his encouragement. However, I feared my dad until I was 13 or so because he used to punish us hard for any mistakes. When I entered my teenage he was already in his sickbed due to Rheumatoid Arthritis. He could not walk properly till he died and he struggled for a long 15 years or so.
From the time my father fell ill, it was my mother's hard work and commitment that brought us (me and my two sisters) up to be well educated individuals. After my father's death, I played a small role in getting my younger sister married off but that's nothing compared to the lifelong dedication of my parents towards bringing us up.
Education and employment
I have been outside my village for the past twenty years though I visit the place once or twice a year. First, I moved to Thiruvananthapuram to join the Engineering college there when I was 20 and then moved to Bangalore for a job at the age of 24 or so. To be frank, though I am married and settled in Bangalore for many years now, my mind is still with that little beautiful village where the laid back, peaceful and healthiest environment makes it a heaven on earth (Literally God's own country).
I shall probably write an autobiography on the rest of the topics, in case I get famous before I die 😀
Why am I among the luckiest earthlings?
A number of reasons in fact:
Since, we were a communist family, temple, gods, religion etc didn't play any major role in my life. My parents taught us to mingle freely with kids from all religions and we even got involved in their lives so that until today I do not see a Hindu, Muslim or Christian differently (In fact, I got a cultural shock when I first landed in Thiruvananthapuram in search of my degree )
The village I was born in is one of the most beautiful places in my state where the freshest water and the best soil is available. Our river never dries up even in the worst of summer
I am extremely happy that I am a non-vegetarian who eats any kind of meat or seafood. I am able to survive anywhere in the world due to the same
My parents taught us to stay away from all kinds of corruptions in life. I consider it a great thing to be able to live as a man with integrity whether it is following traffic rules, paying exact taxes or staying away from telling lies.
I am glad to be married to an individual who thinks like me and fights against injustice all the time. She is equally – or much more than me – receptive to various cultures, religions and able to cope with all kinds of human beings. She works hard day long and plays a crucial role in grooming our elder one while taking care of the special one by relinquishing her sleep time and many luxuries in life
I am blessed to have two adorable sons – one of them a brainy smarty (8 year old Aditya) while the younger one is a bed ridden special boy (Atul who turned 4 yesterday, on 30th September). But both in their own ways make their parents the luckiest ones around.
I am happy being an Indian and feel extremely lucky to have witnessed the kind of growth our country is having in the past twenty years or so
Finally, at 40, I am happy to be reasonably successful in life with respect to my education, career, finances and most importantly fulfilling the duty towards the previous (though not completely 🙁 ) as well as next generation
How am I, as a specimen, fairing at 40?
Health & body: I still have a 6/6 vision (or 20/20 in some parts of the world), I have absolutely no gray hairs and I am lean (67Kgs or 150lbs). I still have a 33" waistline and a reasonably flat tummy. Thanks to my dad for those wonderful genes passed on 🙂
The only health issue is probably the high blood pressure that I developed last year. And appearance-wise, I can see one clear age line on my forehead now and a couple of wrinkles under the eyes – Welcome to the 40s!
One of the health goals is to stop my occasional smoking habits and engage in one of those numerous sporting activities that I like or swim/walk on a regular basis.
Wealth: I am doing okay here. I have a loan free apartment, have reasonable retiral add-ons opted and have recently bought another apartment with a loan. I do have a home back in Kerala where I would like to go back permanently at some point of time.
Career: In my life, I got to work with some of the great companies and coolest software technologies in India as well as abroad. I am happy that I work with SAP which is a steady growth and stable company.
Family life: I already talked about it.
5 things I wish I had done differently in life
1. I wish I had completed the musical classes and instruments that I started practicing as a child
2. I wish I didn't waste all my money prior to marriage on designer clothes, stock markets and on luxury lifestyle. I would strongly advise the new generation kids to think long term in terms of investment
3. I wish I had married at the age of 27 or so. Getting married at 30 was a bit too late, I thought
4. I wish I could control my anger with my kids and my wife. Sometimes, I unintentionally hurt people and unfortunately my current 'serious' and 'tight-lipped' face makes people think differently about the person that I am. I must also confess that I am an outspoken person and that lands me in trouble at times
5. I wish I had a brother with whom I could have shared a lot of responsibilities in life and pressure when I had to cope with such situations – especially during the tragic death of my dad
What's the plan ahead for the next 10-15 years, if I am alive that is?
If at all possible, I would like to see India rich and I would love to live in the developed India. I hope India gets into a developed nation status in another 12-15 years as the next five to ten years are very important for the country.
Grooming the next generation is one of the serious responsibilities of a middle-aged human being and I hope to do my part in the coming years.
Retiring at 45 is another dream and I hope that works out as planned. After that, hopefully, I can continue to do on certain things (may be writing) that I like. from home.
Traveling a lot around the world is another dream. With my second son's situation, I know that it's not easy but I would like to give it a try.
Death?
You never know whether it's going to be a normal death or an abnormal one via road accidents, terror strikes, critical illness etc. But whenever I die, I would like to die peacefully and before causing botheration for others – however, there's no question of dying before I carry out certain planned duties 🙂
Sorry for the long boring post… Many more happy returns of this day, though!