Malayalees (people from the state of Kerala in India) celebrate their biggest festival – Onam – today. Though most of these years I have been working on Onam days, I opted to take a day off today. The idea was to spend the Onam day with my family and also to pass on bit of our traditions to my elder son Aditya who is 8 now. For him having a day of pure vegetarian lunch (Onam Sadya) was something strange but today he was in a bit of celebration as well.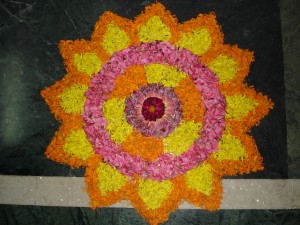 The preparations for the day started yesterday evening itself with us buying a lot of flowers to put the Thiruvona pookkalam. Today morning, I managed to put this small pookkalam (floral decoration – see picture) in front of our entry door and it didn't quite turn out be all that good as I was missing some must-have colors of flowers. However, Aditya was excited about the final outcome. In the meantime my wife managed to prepare the traditional Onam lunch with four to five various vegetarian dishes and the paayasam (Watery dessert)
Things are changing
Though most of us still do celebrate Onam, as the years pass by, the interest is slowly coming down. The traditional aspects are giving way to modern fast life and related lifestyle entities. Onam was originally started probably when most people were poor and on the Onam day they used to eat well, celebrate and enjoy. Nowadays, when most days are like Onam or even better, the importance is no more there, I feel.
For a few years now, Keralites have been the biggest alcohol consumers in India. The state government gets most of its revenue from the state run Beverages Corporation which owns a number of outlets though out Kearla only through which one could buy alcoholic drinks. During festival days the alcohol consumption is at the highest and even children in their early teens do drink alcohol. It's one of the biggest threats to the future of my beautiful state and the ever growing unemployment rate is adding more to the woes.
The unemployment rates have actually forced one or more members of many families to work abroad or in neighbouring states. This means that many of them have to travel back to Kerala on holidays to be really with their families to celebrate Onam – and Onam is the celebration were everyone is expected to get together in the tharavadu or joint family dwelling. Personally, I haven't been able to be with my mother on many Onam days in the recent years and this is something that I feel really bad about as I grow older. My mother on the other hand is not willing to leave the greenery and good neighbourhood of my village place to be with me here in Bangalore where there's no life for a villager in an apartment setup.
Commercialism is part of any festival and Onam is no exception either. In our childhood days we used to actually walk for miles and collect flowers for putting the 'pookkalam' but now I have to buy them – that too not exactly the kind of flowers that I would like to have. Every single vegetarian dish and crispy Kerala banana chips etc used to earlier made at home but now many of them are available in the stores to buy. Even the government run Kerala Tourism Development Corporation have arranged various tour programs for attracting Malayalees and making them realize what Onam stands for. The growing flat (apartment) culture in Kerala is basically churning out a generation that do not understand their traditions and values (Of course I do stay in an apartment in Bangalore and my son definitely miss a few things that I enjoyed as a child)
Overall, as we celebrate this Onam, I have mixed feelings. Though I am trying my best to make our children understand and learn our traditions, I am not 100% satisfied on that front. The responsibility to the next generation in terms of passing the culture, language etc is not completely met. At the same time, by not being with my mother today, I am not doing the duties as a son as well. I only hope that I get to enjoy the next years Onam with everyone in the family.
Happy Onam to you all!