It is almost two years since I signed up for my online trading account with Zerodha Discount Brokerage service. Before this, I have had a long 17 years of relationship with ICICI Securities for all my investment purposes. This was my primary account to meet my early retirement objectives. Well, I still have that account and a big chunk of my retirement investments still sit there. But then their brokerage charges were and continue to be way too high! Looking into my last ten years' trading history, I see that I had paid ICICI a whopping 2.40 Lakhs in brokerages – And all that for a mere gross profit of only about 6 Lakhs from trading alone! That's when I decided to have a look at cheaper trading solutions, found one and hence this Zerodha Review.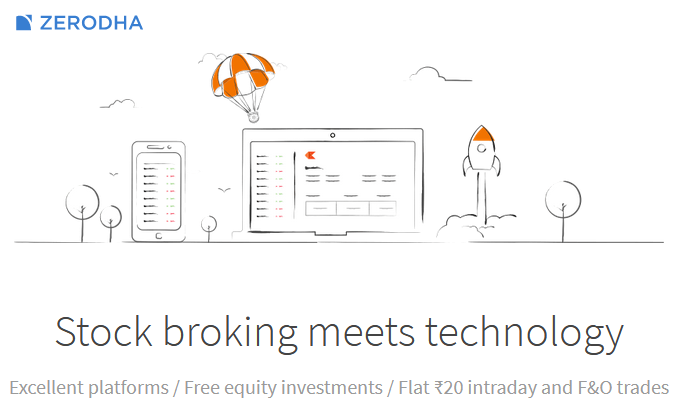 Why Zerodha or Similar Brokerages?
Be it trading or investment, it is all about how much returns you get on your investments. To maximize your returns, you should not only buy low and sell high but also minimize the related expenses. The following table lists some actual stock trades that I did in ICICI in the past and the brokerage charges paid. The third row here roughly completes the Zerodha vs ICICIDirect comparison based on what actually I would have paid had I used the former.
Brokerage Charges – Delivery based
(For 25 shares of HCL Technologies)

| Broker | Buy Price | Sell Price | Buy Comm. | Sell Comm. | Profit |
| --- | --- | --- | --- | --- | --- |
| ICICI | 930.68 | 1073.10 | 170.01 | 201.87 | 3188.62 |
| Zerodha | 930.68 | 1073.10 | 23.93 | 28.07 | 3508.05 |

You can see that I paid about Rs.372/- in brokerages for ICICI Securities for a particular transaction. But I would have paid only Rs.52/- had I done the exact same trade using Zerodha. Please note that, for Zerodha, there is no brokerage for stock investments (i.e. delivery based trades). What you pay is only towards taxes and cess levied by the government, which works out to be around 0.1% in the above case. For ICICI, it is about 0.75% including taxes.
Intraday Trading Brokerage Charges
Intraday trading is really cheap in Zerodha whereby the above trade would have costed me only Rs.15/-. ICICI would be roughly Rs.190/- for the same trade. It's actually 0.01% or Rs 20/- per trade, whichever is lower, for Zerodha intraday trades.
For more information on how cheap Zerodha Trades can get, please check out the Zerodha Brokerage Calculator.
The other valid reason for me to go ahead with a cheap brokerage service was that I wanted to learn a bit of technical trading as well. Zerodha trading platform and apps are designed for traders who can tap the opportunities by understanding the price movements. This is something that first generation online trading platforms like ICICI was completely lacking. Please note that by trading, I am not referring to intraday trading alone. Trading using trends and charts can be for any duration – be it intraday, a few days, weeks or even months. Accordingly, you may call it intraday trading, swing trading, positional trading etc. I must admit that, after I started using Zerodha's simple trading interface (as well as their advanced charts), I have really started learning a bit of Technical Analysis.
By the way, I must warn beginners in trading not to get puzzled by the chart view. It is absolutely optional and one can use Zerodha without seeing any chart as well. But if you are into serious trading, it's good to understand a bit of charting and trend analysis via Zerodha Varsity (mentioned below)
Also, when I wanted to sign up with a Discount Broker service, I wanted it to be a brand that is established and have a sound technology backing them. Zerodha now is the Number 2 stock broker (behind ICICI) in India and they are ahead of HDFC, Sharekhan, Axis, Kotak etc.
Zerodha Account Opening Procedure
Account opening procedure was a breeze with Zerodha. The following were the logical steps involved in getting started with your account:
Visit Zerodha online and click "Open An Account"
Fill in your personal details and complete the signup procedure online with Aadhaar verification
Pay Rs.700/- online towards account opening charges (with Demat account)
Download the signed up form, print, paste your photo and sign it
Have a Zerodha agent to pick it up for you along with copy of address proof and PAN card
Your account will be operational within a week
With the above steps, you can start transferring money from any of your bank accounts and start trading in about a week. Having said that, you still have the possibility of doing steps 2 to 6 offline by having a Zerodha agent visit your home.
Zerodha Online Trading Interfaces
Trading on Zerodha is mostly done via a browser interface called Kite and its counterpart – Zerodha Kite Mobile app – for online trading. The web and mobile interfaces are very similar and easy to use. In fact, there are very few tabs in the user interface, namely Home or Dashboard, Orders, Holdings, Positions, Funds and Apps.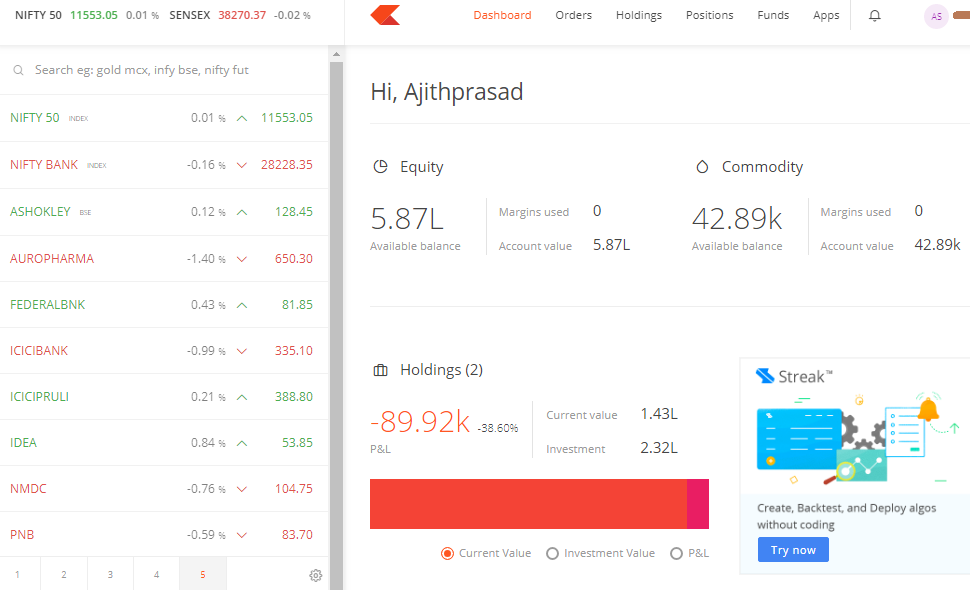 Basically, you start by adding the stock scrips of your interest by to the common area on the left called Marketwatch (Click the above image for a clearer view). You can add up to 20 scrips per tab and maximum 5 such Marketwatch tabs are allowed. The buy and sell orders are executed either from the Marketwatch itself or from the Positions, Holdings, Order windows or even the chart. Positions lists your trading positions yet to be delivered into your demat account and Holdings show your investments or delivered stocks. Funds tab is where you add the money from your bank account or withdraw the profits.

It also offers a powerful Desktop trading app called Zerodha Pi for advanced trading. Pi provides a number of features like custom alerts, and ways to back test your trade strategy via scripts etc. Pi also provides advanced charting tools. I did have my experiments with Pi and Tradescripts but reverted to Kite as I am not too much into Algorithmic style of trading. I must add that it is not exactly an Algo trading solution as placing of orders are still manual. It just provides alerts based on your script conditions and you need to place your orders then manually. More details on Pi is beyond the scope of this post as well as for beginners in trading.
Zerodha Varsity learning center
This is something that no trader or investor should miss at all. Zerodha Varsity is a complete knowledge or learning center for anything and everything concerning equities, trading, futures, options, currencies – you name it. It is the best online learning portal on investment and trading. And it still keeps evolving with more content and answers readers' comments and doubts pretty promptly in an interactive manner. You MUST Check out Zerodha Varsity to see it for yourself.
So, What's Good and Bad about Zerodha?
So far, I have been very happy with Zerodha primarily because of their low brokerage charges. About the trading tools – I am now more comfortable with their charts and trading tools than the transactional type of interface that ICICI has (Or other tools that I have used in the past e.g. Kotak's trading interface long back). Another good thing about the user interface is that whether you are trading stocks, stock futures & options, currency or commodities, the process flow is the same with exact same user interface. By the way, I also did a trade once by calling the Zerodha trade help line. That process was smooth too if you keep your Client ID and PIN handy.
For those want to do highly leveraged trading, there is something called BO (Bracket Order) and CO (Cover Order). These products offer up to 25-30 times margin leverage on your cash, based on your stop loss criteria. This is a great feature for seasoned traders.
Marketwatch is one of the coolest features that I really like. Basically, I add my Portfolio stocks in one view, equities to be invested into in another and pure short term trading bets in yet another tab. In all tabs, I also add the basic indices such as Nifty, Sensex and Bank Nifty. It's very easy to organize, get a clear view of the market and also get to see the live market pulse.
Getting an year end tax statement (for LTCG and STCG calculation) from your brokers is one of the nightmares of a trader. Zerodha's tax statement is probably one of the best I have seen. It's neat, simple to understand excel workbook with all your transactions and taxable figures mentioned in a consolidated form. Your statements and past transactions can be downloaded from their back office tools. Also, for those who want to invest in Direct Mutual Funds, there is a Coin Mutual Funds portal as well.
Zerodha also boasts of a highly interactive discussion portal called Z-Connect, which is another huge plus point.
About the improvement areas – It did have some technical snag in terms of getting the latest quotes for two or three days in the last two years. Zerodha, however, provides the details and reason for such errors on the trading view itself via alerts. Most of the time, it seems to be the glitch from the exchange itself.
One BIG issue I have with Zerodha is that they don't allow users to simultaneously log on to the Kite app as well as Pi. This is kind of irritating as I would love to see the triggers on Pi and use the simpler Kite app to trade. However, they allow simultaneous sessions on Kite mobile app and web interface.
Also, it's about time they added some more features such as better trading alerts into the Kite trading app. It's already part of the Pi Desktop Trading Tool but I would like to see such a feature in Kite as well. There is a new Algo tool called Zerodha Streak under development, but I haven't used it yet. That said, I need to really write a detailed post on Pi and TradeScript algorithms soon. It's an altogether different and exciting place as well.
The 60 Day Challenge
This is an interesting proposition (which I actually missed myself while signing up). After your first 60 days of trading, if you are in profit, Zerodha will pay you back all your brokerage charges! This is subjected to a maximum of 6,000 Rupees that they will pay. Still it's an excellent deal and many people have taken up trading as their profession after taking up the 60 Day Challenge.
That's pretty much about Zerodha for now, although I really have a lot of experience to share. If any of you are Zerodha customers here, please provide your feedback as comments here. Others may consider checking it out along with any of the other discount brokers you have in mind.
Account Opening Link for Zerodha
Some more screenshots
Zerodha Kite Web Interface screens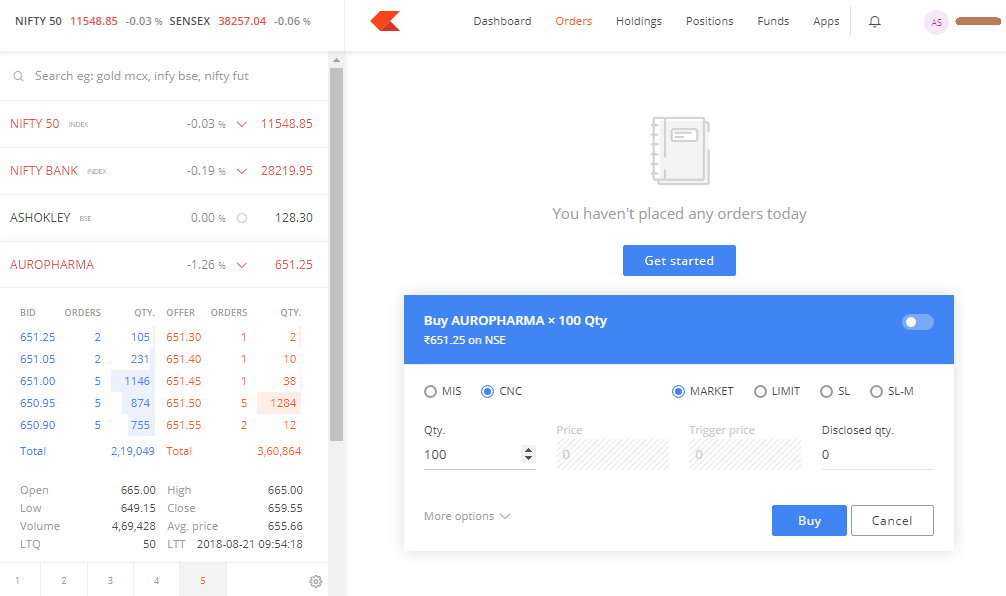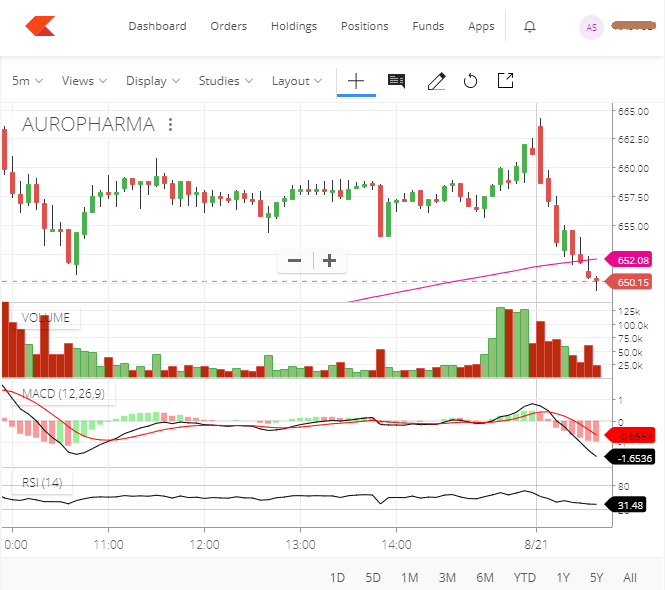 Zerodha Kite Mobile App Interface