It's FIFA World Cup time and we soccer loving Indians have tough time staying awake for the second match of the day that's happening post midnight. Some good tea or coffee can help keep your eyes wide open but then they might actually spoil your sleep after the match is over!
Well, I have the right solution which is my latest cocktail experiment – the Tequila Iced Tea!
This simple recipe has the goodness of the tea that can refresh you by right levels and negate a bit of kick that the alcohol adds. And it's not as bad as a Long Island Tea in terms of the hangover nor it takes away the taste and aroma of tequila – in fact it enhances it, I thought.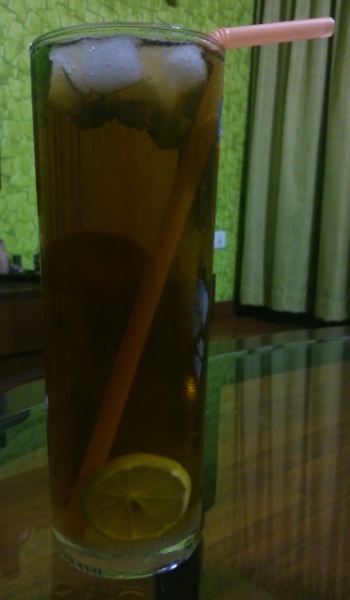 Ingredients
Tequila – 1.5 oz (about 45ml)
Lipton Iced Tea Lemon flavoured, chilled – 180ml
Lime slices – 2 to 3
Fresh mint leaves – 3 to 4
Sugar syrup – 1 teaspoon (optional for the calorie concerned)
Ice cubes – 5 to 6
(Please note that if the iced tea is not lemon flavoured, you will have to add a tablespoon of lime juice and sugar syrup. The other option is to add half an ounce of sweet and sour mix)
Preparation
As easy as 1-2-3! Shake tequila, sugar syrup and iced tea well. Pour into a 250ml highball glass with lime slices, ice cubes and mint leaves. Stir with a straw and…
…Cheers!
It's not hard on you and keeps you fresh for the cause.
Oh well, I hope to hold on till the end of Costa Rica – Holland encounter with this one in my hand!