India's bowling attack, at the moment, seems to be riding smoothly on the newly found vigor of a number of quality pace bowlers. In fact the trend started five to six years back with Zaheer Khan and Ashish Nehra taking over the baton from the able Srinath-Prasad duo. Since then India always had six or seven quality bowlers to pick the final pace bowling lineup from and the good thing is that the supply doesn't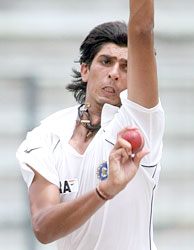 seem to stop at all. While this is a very good sign, I strongly believe that the current system in India still do not have the infrastructure to produce and maintain match fit fast bowlers.
Historically India almost always trusted their spinners to drive the bowling department, both at home and abroad, for test matches as well as shorter version of the game. This had worked well when many great teams did not know how to play spin bowling and for sure we had some great masters of that art. Kapil Dev and co created history in the early 80s with the help of a bunch of medium pacer all-rounders but they were still not good enough to win test matches abroad. After that in the 90s we had a couple of quality pacers out of which Javagal Srinath stands out (best Indian pacer ever in my books, Kapil fans please excuse) in terms of consistency and quality. But even then the composition of the team was always around the spinners and we never won a good number of test matches abroad. The case is slightly different right now with the Indian team winning test matches in West Indies, England, South Africa and Australia in a span of two years – This time around the victory being set up by the young pacemen on the side and not completely by the much advertised batting order.
Unfortunately, in a country where batsmen are gods it is very difficult to get support for these new warriors – both from fans and the authorities. Indian fans still want flat wickets in India where their batters make merry in every single outing and the sponsors get the value for the money spent. It is really a pity that in a cricket crazy country, we still do not have a handful of bouncy (good consistent bounce, I mean) or fast wickets. Of course, there are exceptions like Mohali but we need a lot more good pitches to support our newly found skills. As a matter of fact, good pitches will only help us to spot and nurture good batting talent as well which will in turn help the overall team performance at the international level as well as domestic cricket.
Another commonly found issue with the selection process is that they keep trying the same bowling combination for a prolonged number of matches than desired. This overuse has a very bad impact on the fast bowlers' fitness. Many of us still keep wondering whatever happend to L Balaji and Ashish Nehra who were once hailed as the key members of the Indian squad for the next ten years. The same issues seem to be proping up with Zaheer Khan, Munaf Patel (time and again), RP Singh and Sreesanth as well. It is high time the authorities thought about this issue and maintained a rotation policy for bowlers. If there is a pool of five or six fit bowlers one could rotate one at a time every two or three matches and keep all of them fit. The international cricket schedule is always pretty tight for India due to the huge number of one-dayers that they play and hence this kind of a set up has to be in place at the earliest.
The rotation policy should be further improved by the addition of good support staff. Fortunately, India now have a good fitness expert and an excellent bowling coach. The post of the bowling coach, in the past, was never a permanent one for India. But the authorities should realize the benefits of having a bowling coach (and a fielding one as well) and give longer terms for such important roles.
As I write this blog, I have been watching Ishant Sharma's beautiful spell in the fourth one-dayer of the triangular series. Many Australian eyebrows have already raised on seeing and experiencing the lethal Indian pace attack and the good job done during the test series. The bowlers are keeping that momentum in the one dayers as well despite loosing RP Singh and Zaheer Khan due to injuries. I only hope that in the future youngsters like Ishant Sharma would not succumb to the pressure and fatigue created by tight schedules and lack of support system. Is BCCI listening?