After witnessing the dismal performances of India's fabulous 4 and the legendary spinner & captain, I am forced to write that it is time for them to call it a day. Instead of facing axe from the BCCI selectors and getting booed by the public, they should take a decision on their own.
Assessment of the current test team
As I expressed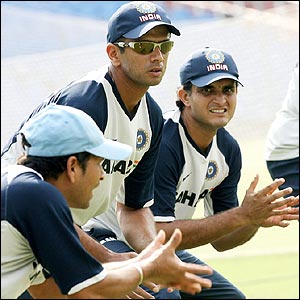 in an earlier post in this blog, they had a chance to rotate these four batsmen to make sure that only two or three of them play in a single match. This would have given opportunity to a budding test cricketer to try his skills and take the challenge along with the experienced. By not doing so, Mr. Kumble (who himself need to be rotated) and co underlines that all oldies will play together until they are chucked out. Reminds me of the Saurav Ganguly era of leadership.
Suggested Roadmap for India's test team
Kumble can be given another test series to help experiment with youngsters and retire himself
Rahul Dravid needs to announce his retirement soon after this series as he has nothing more to prove. Rahul has been the main batsman in the middle order for quite some years now and has scored above 10,000 runs each in both versions of the game. It is right time for him to retire!
Saurav Ganguly has to retire himself or removed from the squad immediately
VVS Laxman may be given a chance to play up in the order for another series and see if he can do better. During the Ganguly era and post that as well, he was always ill-treated with selection as well as batting order experiments
Sachin Tendulkar can be given another test match or two to retire gracefully after breaking Brian Lara's record. There's no point in persisting with the god forever as in any case Ricky Ponting will over take him in another year or two and Sachin cannot race against time!
Both Sachin and Laxman should be given the task of inducting the youngsters into the test mindset over the next couple of months.
The Indian test team has to undergo a major change – mainly in the batting department and I am convinced that heroes like Yuvraj Singh and MS Dhoni have nothing to do as test batsmen. Of course, Dhoni figures in the scheme of things as a wicket keeper batsman and as a captain. Unfortunately, the selectors and the current captain could not manage the transition in a phasewise manner as they were either afraid of the fans' reaction back home or were worried about their own place! But if they don't do it in a fitting manner, it is going to hurt forever – something like the West Indies team went through, when all their great bowlers retired together and then the batsmen, leaving the team in tatters.