So what were the Indian politicians' reactions after Obama's won the Presidential elections for second time?
(Please note that these are fake remarks intended for humour alone and hence readers are requested not to get offended by the same)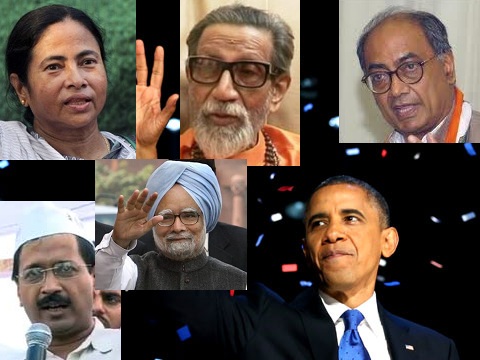 Digvijay Singh
I have solid evidence that Obama took huge sum of money from anti-social elements in order to drive his election campaigns not only this year but in 2008 as well. And the US presidents should not involve their families in political matters and election campaigns (they should instead create political heirs like Indian political parties do)
P Chidambaram
Statistically speaking, although Obama won, there might have been a percentage of technical error that affected the final outcome for Mitt Romney. We intend to fix this over the next 40 years, via stringent measures and policy creations without which the GDP growth of 0.0001 percent cannot be achieved nor can inflation be brought down under 20%.
Mamata Banerjee
Obomo treat Bongol like step sohn. This is not occeptoble and all his peepal are CPI(M) cadres, Maoist cadres…. The real 'Poriborthan' is what we need just like we are doing in Bongol.
Arun Jaitley
The voters are entrusted the Obama yet again just like the aam admi did it for UPA in 2009. I am sure they will regret the mandate given by them sooner or later. I believe that the Republicans will form a very supportive opposition (just like we are doing) to take the country to the next level. At BJP, we believe that they have a bigger role to play (to make sure that the house is disrupted in every single session) in this context.
Sitaram Yechury
We will not let Obama take up any development activities in the US – especially anything that affects the common man. Our Polit bureau is closely watching the developments and we intend to come up with our white paper soon. As for Mitt Romney, he's no saint either. We hope to see a Chinese immigrant or genuine Socialist Russian leader leading the United States soon. (As for us, we will not let anyone rule, we don't want to rule either, we are just genuine activists concerned about all types of development activities)
Bal Thackeray
Obama won just because of the immigrants who are causing trouble all over the nation. If the US president dares to visit in India again, I warn that Shiv Sainiks will spoil all cricket pitches in India.
Devegowda
Mitt Romney lost because he did nothing for the farmers. Only those who support farmers will be supported by our party (so that we can acquire as many farm lands and farm houses as possible). I hope to see Obama taking up more farmer friendly policies (such as making Ragi Muddhe available in the White House Canteen)
Nitish Bharadwaj
We will fight till Obama gives special economic status to Bihar. However, I will not accept the economic package if Modi is teaming up with Obama.
Narendra Modi
Have you seen his Billion Dollar bailout girl friend err… wife? She did the trick for him. (Obama: If you don't like billion dollar girlfriend, why don't you tell us more about your simple school teacher village wife)
Yeddyurappa
This is all black magic. Obama did black magic with the help of two famous Californian and Iowan black magicians. On top of this, he also visited 100 Hindu temples in 10 days and got the job done by bribing gods. I had advised Romney to visit at least 200 temples but he didn't listen to me, fearing me to snatch power. See what happened now?
Kejriwal
Obama must RESIGN first and face election again. Mitt Romney is no saint either and he should RESIGN as well. And if there are any other contender out there, he is corrupt and they should all resign. Resign! Resign!! Resign!!!
…and…
Manmohan Singh
Mmm… Grin… Sigh… (Gets up, looks at the match referee Soniaji for approval and hesitantly waves at Obama like a Cricket umpire feebly signaling a boundary hit by 'The Sachin')