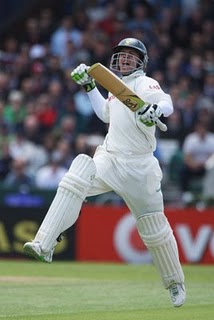 We got to see yet another fantastic test match chase a couple of days ago when the Proteas beat Australia in their den – that too at the much heralded and 'fiery' WACA (Perth) pitch. In fact, before getting into the details of the match let me tell you that this is not the Perth pitch that I have enjoyed watching (on TV) as a child. There's fiery bounce here anymore and pace factor is only as much as that of any batting pitch in England. But that does not take the credit away from the South Africans who chased 414 successfully to enjoy their Christmas this year.
Exceptional start by the Proteas
South Africa gave the indications of beating Australia in the first 15 minutes of the match itself when they took 3 quick Australian wickets for a mere 15 runs. Hayden & Ponting's bad form continued though the middle and lower middle order along with Katich managed to push Australia to an excellent 375 runs under 100 overs, despite Ntini's heroics. This seemed like a great score for Perth. In between, S.Africa has their excellence in the field with Duminy and De Villiers taking exceptional catches and saving runs in stunning acrobatic fielding.
Mitchel Johnson rips through
In the absence of somebody like Ashwell Prince, the South African batting order looked pale and it proved to be so as they were all out for 281 runs giving almost 100 runs lead to Australia in the first innings. Mitchel Johnson was exceptional with the cherry when he ripped through the South African batting lineup and took 8 wickets. Bret Lee looked to me like a mediocre medium pacer trying to prove himself in the international cricket. With this kind of a lead, on Day three-first session, anybody would have picked Australia as a clear winner in Perth but cricket is all about uncertaininty right?
In the second innings, South Africa had some success in the first thirty overs when they took four Australian wickets. Hayden and Ponting again were ineffective so was the middle order but Brad Haddin's gem of an innings take them to 319 setting an (almost unachievable) target of 414 in exactly five sessions.
Smith, Kallis, De Villiers, Duminy…
Graeme Smith and Kevin Pietersen have quite a few things in common – Both are South Africans, they bowl part time spin, both are aggressive captains even when they play test matches and they are from the same age group. Smith started the fourth innings with a lot of aggression and scored a fine century and the rest of the team just carried that aggression but in a controlled way. However, I thought it was Jaques Kallis's gem on Day four end that underlined what S.Africa was eyeing to do on the fifth day. His vigorous pulls off Siddle in an over resulted in a Six and a Four that left South Africa at 227/3 on Day 4. This meant that only less than 190 runs to win on the fifth day with 7 wickets remaining!
The grand final day
On any other day against the erstwhile Australian team, the South Africans would have lost this match. But the debutant Duminy supported an in form De Villiers – amongst aggression and sledging from Lee and co – to take the Proteas to a famous Perth win and a 55 thousand strong WACA crowd was still figuring out whatever happened – so was Ponting and co.
Is it Perth?
Though I do not want to take any credit away from the Proteas, the pitch looks pretty placid for Western Australian standards. One may recall that India convincingly beat Australia on Perth less than a year back and hence this pitch is no more the Australian strong hold.
Mr. Punter slammed the pitch for their defeat but I would like to ask him why then his batsmen failed in the beginning itself. Even if the pitch was bad, the S.African batting was not that strong (with Prince missing) compared to the Australian side and why could not they take 6 wickets on Day 5?
The reason is very simple. Just like Harbhajan Singh is a big zero without Anil Kumble, since Shane Warne and McGrawth there's nobody on the Australian side who could lead the attack. Their bowling team is just trying things on their own individualistic ways and not as a team. On some day's Clark clicks and some other days Johnson. But the most experienced bowler, Bret Lee, being out of form their bowling attack looks weak
As long as they don't fix this and find a proper replacement for Matthew Hayden, the Australian cricket is bound to go down the ranks soon enough. Hayden's exit is imminent post this series and Ponting's captaincy may not stay for more than an year from now.