The worst has happend again and last night's terror attack in multiple locations in Mumbai has raised concerns on whether it is safe to conduct the Champions League Twenty20 matches and continue even the ongoing England's tour of India.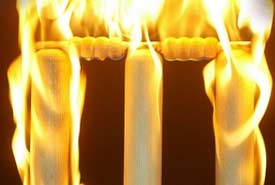 Mumbai has been identified as one of the key venues for the first edition of the colorful Twenty20 event that was to start next week. The second test between India and England was also scheduled for this venue. Now in the wake of the terror attacks, I doubt if it is even safe to continue with these schedules. Moreover, the visiting teams have a real reason to stay away from their plans due to two main reasons:
1. As of the situation this morning, 6 foreign nationals were killed in the terror attack last night and a few others have been held hostages.
2. For the first time, the attacks have taken place in laxury hotels, where majority of the cricketers will be usually put up for such events .
Ponting talks about it and England board reviews situation
The Punter has pounced on the opportunity to immediately declare that it may not be safe to continue with the Champions League T20 in this situation. He even went ahead and said that probably another country should host the event now (which means that the event could be postponed). Two Australian clubs – Western Australia and Victoria – were to be part of the Twenty20 event along with two teams from India, South Africa and one team from Pakistan and England respectively.
Double standards?
Ponting (like the Pakistani board earlier this year) has every reason to shout because, time and again, when it comes to terror attacks in India, many cricket boards have shown their back to the players by putting their life at risk. When similar things happen in Pakistan or Sri Lanka, they are much stricter. Like I mentioned in the last post, money is everything and BCCI can set the rules as they are the richest! Not sure if that can work this time as the value of human life should be considered equal anywhere on the earth!
Though, terror attacks in India are mostly said to be originating from Pakistan, when it comes to a sports event, I guess the governance should be impartial. Pakistan even lost the Champions Trophy opportunity due to terror scare, political situation etc. Even if I am an Indian, I must say that, this time around, the Champions League should be postponed and give more importance to human lives than cricket and money!