I had a chance to test drive the Fiat Linea Petrol – Emotion Pack – a couple of weeks ago. I must say that, I haven't seen any better looking car in this segment or for that matter even in immediate upper segment until today in India. It looks so beautiful, feel heavy and nice but unfortunately has a weak heart.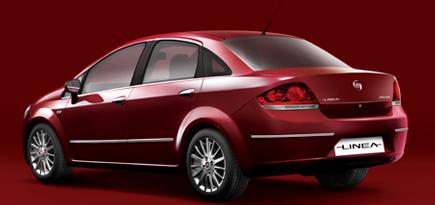 Image courtesy: Fiat India
Fiat make amends in India
Fiat had spoiled its image in India way back in 70s and 80s itself. Since then nobody seriously took Fiat as a serious brand probably except those Mumbai taxi drivers who still maintain their 1965 Fiats. However, eight years back, Fiat India surprised all of us with a stunning Fiat Palio which was a highly successful model. It went through many modifications and the next was the turn of the Linea.
If Palio was peppy enough and beautiful, its bigger brother has its European traits of inherited looks but it really drags on the road. The 1368cc (what a pity, it's not even a 1.4L engine) petrol unit delivers a pathetic 115Nm torque at peak which means that you have to be somewhere in third or fourth gear to feel that the car can actually move. The engine offers a decent 90BHP power but nobody will feel it due to the poor torque.
The ground clearance is another area of concern. It hits almost every speed breaker on the road with just two people in the car itself and I can imagine the situation if the car is fully loaded. The car comes loaded with a lot of features such as Blue and Me blue tooth integration and the interiors are okay for the price.
However, a car is a car first because of its engine, anything else comes next. Due to the same reason, the Fiat Linea's Indian edition is not a great car. On top of this Fiat's notorious after sale service adds to the woes. Overall, the vehicle can be rated something like 3 out of 5.
You can find my road test report of Fiat Linea Petrol at Mouthshut.com. Let me know your thoughts on this beautiful laggard.
Happy Motoring!