I had some tough luck with my previous attempts of mastering the art of making Kerala Porotta's at home. But not any longer! This time the experience was better and my porottas turned out to be really good and delicious. (Well, it could be still better…)
So here's how you go about making Kerala Porottas or Malabar Porottas (Alternatively you could directly jump into our Kerala Porotta making Video)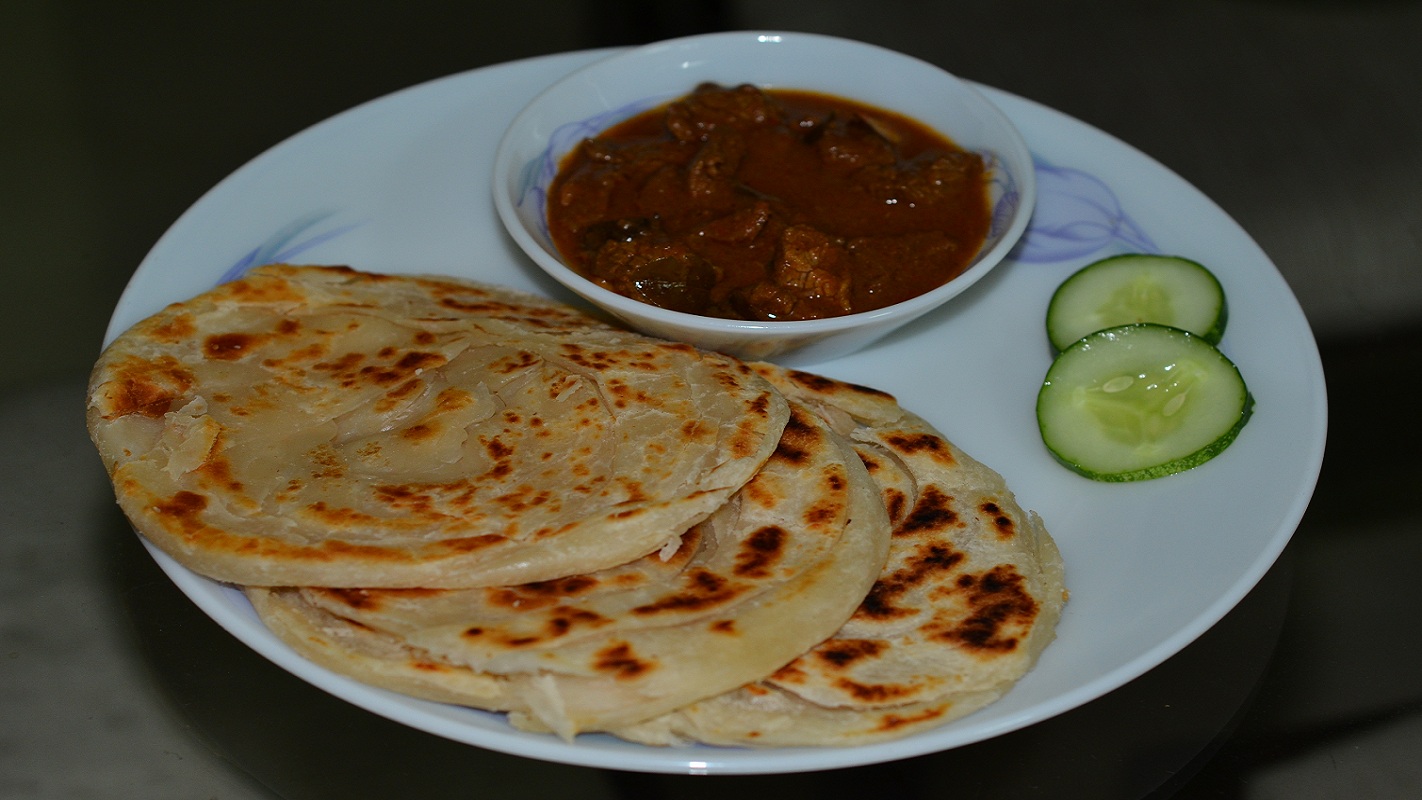 Ingredients (to make 8-12 porottas)
Maida (All purpose flour): 500gms
Salt: ½ to ¾ tsp
Sunflower oil or your favorite Vegetable oil: About 100ml
Egg: 1 (Beaten)
Baking soda: ½ tsp (if you like more leavening, I avoid this)
Warm water: As required
Some people like with a tinge of sweetness and in that case you may add a teaspoon of sugar as well. I personally do not do this
Method of Preparation
The complete step-by-step instruction to make Kerala Porotta is available in the following video that I recorded recently.
However, if you want a written recipe, here is how you go about making Kerala Porottas.
Step 1: Take half a kilo maida in a wide mouth bowl and make a well in the centre. Add half (or as per taste) a teaspoon salt, about three tablespoons of oil, one beaten egg to this and mix well. Add warm water and mix thoroughly and evenly for about 4-5 minutes to make a soft and rubbery ball of dough. You may keep adding more water and oil during this process.
Step 2: Apply some oil on this dough ball and keep it covered with a wet cotton cloth for about 60 minutes.
Step 3: After an hour, split the big ball of maida dough into smaller sized (about the size of a very small orange) dough balls and keep them aside. Half a kilo of maida will usually make about 10 such dough balls. Apply some more oil on them and keep them covered with the wet cloth again for about 10 minutes.
Step 4: Now for the difficult part. Take each of these dough balls, flatten on your clean kitchen counter and lift and beat them on the counter as demonstrated in the video. You have to lift (not so high) the flat dough with your left hand, beat on the counter while supporting from the top with the right hand. Do this till the dough becomes a flat long dough mat. This process needs some expertise, in fact, I am still mastering it. If you can't get it completely flat and thin, help with your hand to spread it further.
(The above process is what earned Kerala porotta the name 'Veeshu porotta' because it's just like you are using a paper fan)
Step 5: Now, lift from one of the broader sides of this dough towel and fold it towards the other side to make pleats (refer to the video) to make a long pleated length of dough. Further, this length has to be coiled into a dough spiral and tuck in the the other end nicely down. That's it and we have to repeat (Step 4 and what we just did for all other dough balls)
Step 6: Now, it's time to toast the porottas. Heat a tawa or skillet and pour about one teaspoon of oil in it. Reduce the flame into medium to low. Flatten the dough spirals on the counter with bare hands to make it to a 5-6" diameter porotta. Place this in the tawa and you have to toast it for about 3-4 minutes occasionally (every 30 seconds) flipping it. It's better to use a large tawa that can accommodate 4-5 porottas.
Step 7: The last step is the fluffing up process. When 4-5 porottas are ready from the tawa (and when they are still hot), stack them up on the counter and tap them firmly using your palms from the sides (refer to video). This fluffs up the porotta layers making them soft and nice. And that's what make them quite unique from other types of rotis or parothas in India.
That is it! Delicious Kerala porottas are ready!!
Kerala Porottas are best enjoyed with protein rich spicy curries such as Kerala style beef curry (non beef eaters, please excuse), Chicken or Mutton curry, Egg masala or even Green peas masala. One of the hot favorites in Kerala road side shops (thattukadas) is beef fry or beef chilli with Kerala porottas.
Health tips
Kerala porotta is not exactly a good habitual food, health-wise. Since it is made of white flour and drinks a lot of oil, it's bad on your intestines. White flour tend to increase your bad cholesterol (LDL) levels as well. I recommend that you eat a lot of onion salad (Sliced onions rubbed with salt and vinegar) along with porottas and beef to help with your health. Also, make it a habit to drink a lot of hot water after eating porottas to help with the digestion process and ease stickiness.
Please note that your favorite roadside shops may be using Dalda (Vanaspati or Margarine) for making Kerala porottas. Though this is tastier, it's extremely harmful for health
…and let me know how your Kerala porotta making experiment turned out to be.