I have prepared this type of cut mango pickle numerous times in the past but got the chance to post the recipe only today – thanks to some pictures clicked during the process. So, without much blabber, let's get into the act.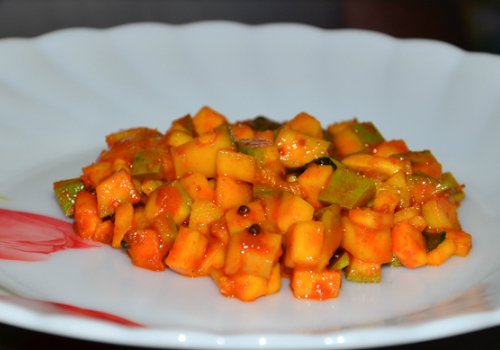 Ingredients
Raw mangoes – 2 medium sized
Green chillies – 10, sliced diagonally into 3 or 4 pieces
Curry leaves – 4 to 5 twigs
Garlic (optional) – 8 to 10 cloves sliced lengthwise
Gingelly oil (Sesame oil) – 2 tablespoon
Red chilli powder – 1 teasooon
Kashmiri chilli powder (Paprika) – 1 teaspoon
Turmeric powder – ½ teaspoon
Big mustrard seeds – ½ teaspoon
Vinegar – 2 tablespoon
Fenugreek powder – 1 teaspoon (1 tsp seeds fresh toasted and powdered)
Asafoetida powder – ½ teaspoon (solid asafoetida toasted and powdered)
Salt – 1.5 teaspoon, or as per the tartness of the mangoes
Preparation
Clean mangoes well, wipe it with a cloth and let it dry for a few minutes. Cut them into small pieces (ideally ¾ cm cubes) with the skin on. This recipe of instant Kerala mango pickle (nadan manga acchar) needs very good raw mangoes with thick skin.
In a pan, heat 2 tablespoon of gingelly oil. When the oil is really hot, add mustard seeds and let them crackle for a few seconds. Add curry leaves, garlic, sliced green chillies (beware, never add whole green chillies to heated oil as they may explode and splash hot oil) and stir fry it for about 30 seconds. Lower the heat and add chilli powder, Kashmiri chilli powder and turmeric, salt and stir well for another 30 seconds. Turn off the stove and add vinegar when the pan is still hot. This helps in vaporizing some water content in the vinegar.
After five minutes and when the pan is still warm, add mango pieces and mix it all together very well. Yes, in this variety of pickle, we don't cook the mangoes but it's consumed rather raw. Sprinkle asafoetida and fenugreek powder and mix again. The mango pickle is almost ready!
In about an hour, this hot mouthwatering mango pickle can be transferred to an airtight bottle. You can start consuming this instantly though it tastes better after a couple of days. If garlic is used, it tastes good typically in a week or so.
By the way, while salt and gingelly oil are good preservatives, whatever little moisture the ingredients hold is good enough to spoil the pickle in a few days. Hence, if you can't consume it within 4-5 days, you may have to refrigerate it.
Postscript: Gingely oil, Fenugreek powder and Asafoetida are the three most important ingredients that make irresistible South Indian pickle! Hence, never miss any of these ingredients nor pick any substitute oil.
In Pictures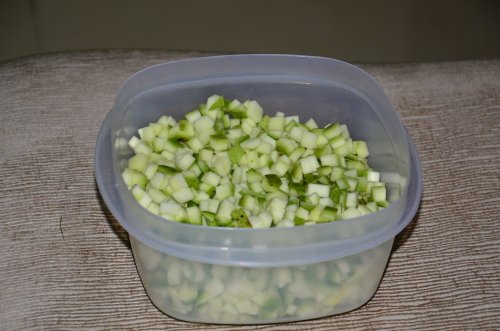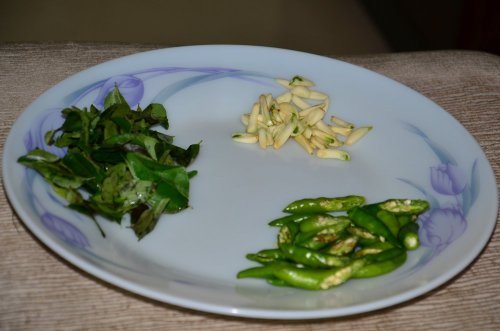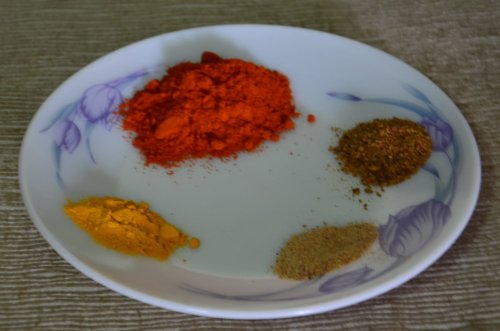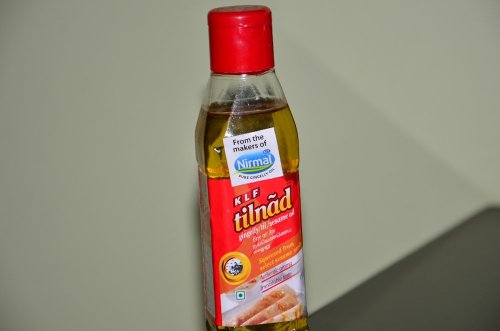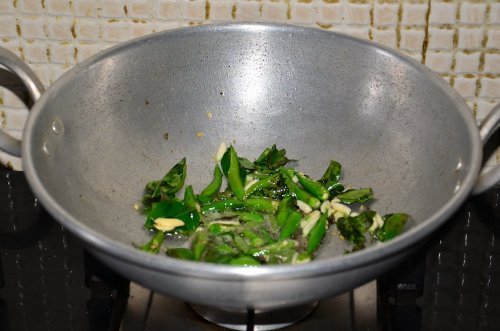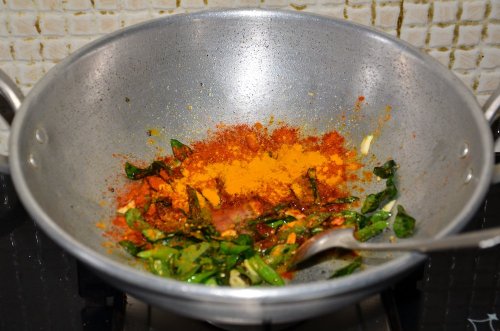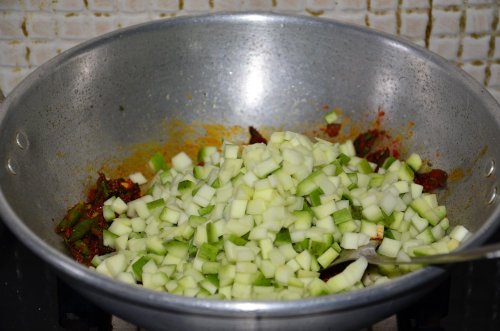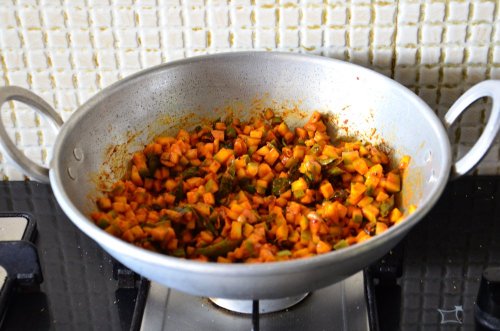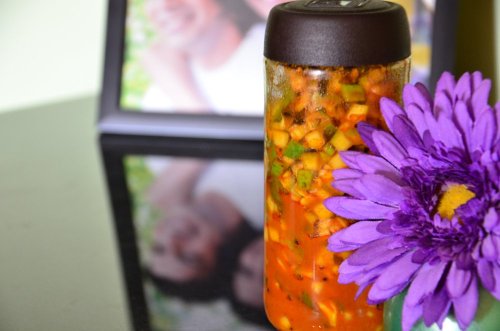 (This picture is shot by Aditya Edassery. He wanted all that decoration around the pickle bottle)