You must try out this recipe that I accidentally invented. I had eaten ripe mango pieces topped with Vanilla ice cream in one of my friends house and thought why not improvise? So here's what I did…
Mango Vanilla Ice Cream 'whatever'
Ingredients
2 ripe mangoes pealed and cut into 1″ cubes (shouldn't be over ripe mangoes)
Raisins – 3 teaspoons
Butter – 3 tbsp
Cashew nuts – broken – 20 to 30 gms (or 3- tbsp)
Sugar – 1 tbsp
Vanilla ice cream – a few scoops
Fresh mint leaves – 4 to 5
Preparation
Heat a medium sized pan, add 1tbsp butter and quickly fry the broken cashews until the are golden brown. Be careful as in no time they can turn black and bitter. Transfer the fried cashews on to a plate and remove the extra butter from the cashews by pressing with kitchen tissues.
Add 2tbsp butter into the pan again. When it's melt, add the ripe mango cut pieces and stir continuously in medium flame. Do it until the mango pieces are soft but not mashed.
Heat up another small pan (or seasoning tawa) and add the sugar and stir it vigorously with a steel spoon. When the sugar turns to coffee color it is caramelized. Add three-four spoons of water into it keep stirring in high flame. You should not reduce the heat at this time else the caramel will be already becoming sticky. Add this to the toasted mangoes and stir once again.
Presentation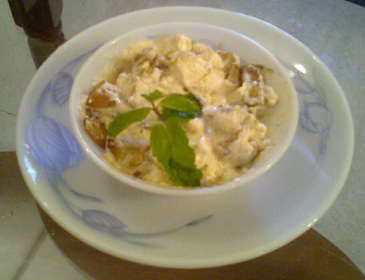 In a dessert bowl, add four to five table spoons of those prepared mangoes. Add two scoops of Vanilla ice cream on to it. Add five to six raisins and a teaspoon of the roasted cashews. Poke the whole content three four times with a spoon in a way that the caramel in the mango appears a bit on to the white Ice cream to give it a pleasant texture and look. Be careful not to stir it too much. Garnish with a fresh mint leaf and enjoy before the mangoes turn too cold!
Try it out and let me know how it turned out to be. You will like it for sure 🙂 You can try the variations of this recipe by adding a few banana pieces along with the mango, which is what I have done and shown in the picture. You can also add a small pinch of cardamom powder if you like that taste.
Bon Appetit!