RangDe.org is a non-profit organization that focuses on providing Microloans (aka Microcredits) to the needy Indians living in village places to setup their small business thereby improving their lives. It is an amazing concept that works instantly the moment you decide to be part of the same. Just imagine the feeling of helping a poor family from a remote village of Jharkhand or Orissa or Kerala or Manipur or other states. What a satisfying experience!. That's what RangDe facilitates while protecting your investment – Yes, it's not like giving away money to Charity but you know the recipient of your little loan and be part of their success story.
What is MicroCredit?
Microcredit refers to the lending of smaller amounts of money at very low interest rates to new small business ventures, typically in the developing countries like India. In our context, the loan amount is usually in the range of Rs.5,000 to 10,000. The microcredit concept was actually popularized by the Grameen Bank – the bank of the poor – that was founded by the Nobel prize laureate and economist Mr. Mohammad Yunus from Bangladesh.
Refer to this Grameen Bank page for more details.
The microcredit concept has been spreading across the developing world since mid seventies and this is exactly the context under which RangDe operates.
How RangDe works?
RangDe.org collects the loan amount via smaller social investments (Rs.100 onwards) from Indian citizens (and those who are staying abroad) are provided to your selected borrower from poor village families with the help of NGOs in their respective states. You can search for a borrower from the list and make a small social investment of your choice to that particular borrower via online banking, credit card or cheque. So if a particular borrower needs 7500 rupees to renovate his kinaara shop or buy a goat, there may be several individuals contributing to that cause.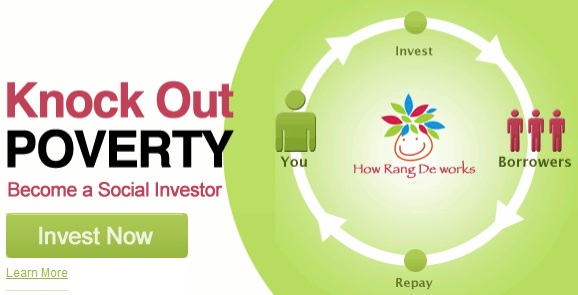 Once the required amount is collected, the NGO passes it over to the borrower. The borrower then has to pay back the loan, typically in one year, to the NGO who deposits the same back in the RangDe account. Basically you get back your social investment typically over one year and also receive a small interest of 2%. You can opt to forgo that for further social causes – that is up to you. Since, RangDe scheme has a repayment rate of almost 100%, you are guaranteed to get back your investment that you can withdraw anytime to your bank account. Sounds amazing right?
The typical interest rate charged to the borrower is 8.5% off which 5% goes to the state level NGO, 2% to you as an investor, 1% to RangeDe.org for their operational costs and 0.5% for contingencies.
The concept is working very well so far since RangDe.org became operations in 2008. For further details you can visit RangDe.org
Who is in need of your Social Investment?
If you want to know the typical borrowers that are listed online on the RangDe microcredit site, check out the following pictures (click to enlarge).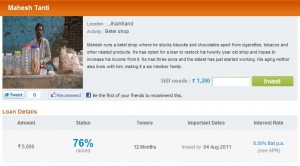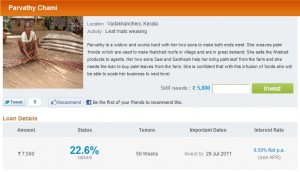 …and now what prevents you from making a small investment to help a fellow citizen in need?
Visit RangDe.org Now and Pledge your Support!
The soul of India lives in its villages – M.K Gandhi